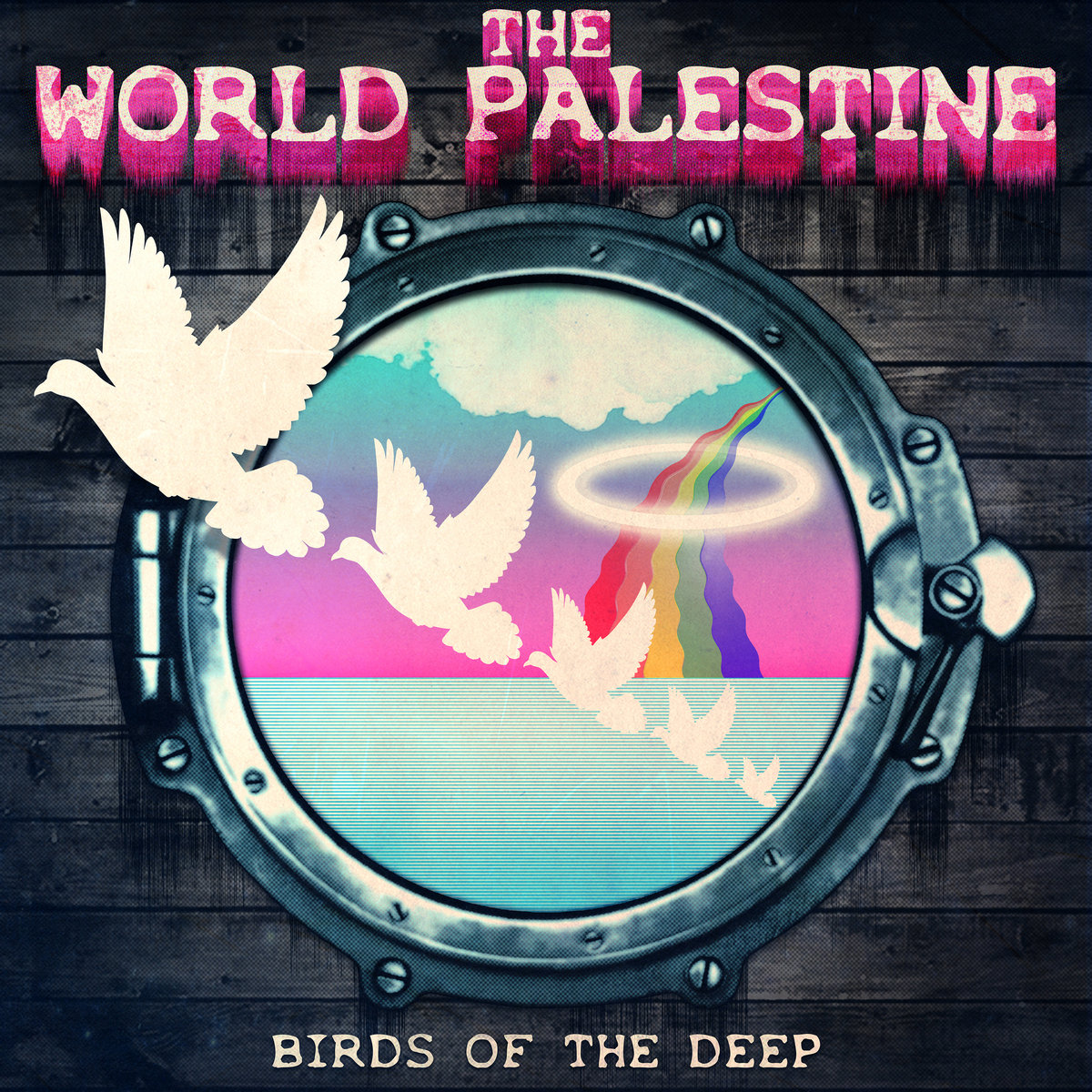 5 May 2020
Les Easterby is Kansas's finest unchecked asset, having contributed to its musical history on a more radical and meaningful scale than most are even privy to. He's created The Wichita Flag, a subversive gospel whose words are lifted or inspired right from the Good Book and aimed back at its acolytes to stress their emptiness and unreliability. He's served as a member of And Academy, the greatest super-group to emerge from Wichita, boasting—and your writer is a little biased here— Aids, the most superb album our nation's midsection has ever known (or not known). Most consistently, he has continued churning out albums throughout the years under his solo moniker, The World Palestine. Birds of the Deep, his latest, follows the Dik Dik Sounds EP of 2017 which consisted of four completed songs cut from the same sessions, originally meant for inclusion on this full-length.
Though it's impossible to have judged it in its once intended form, the separation of said tracks appears to be for the best. Sounds is murkier in quality and more lo-fi, or was at least mixed and mastered so. Birds sees Easterby at his proggy best, harkening back to the extended jams, corkscrew time signatures, and blissful meditative states of early masterpiece Let's See Star B.
"American Goo", a song that appeared on Soundcloud ages ago, pokes fun at the upturned noses of toxic fandom. "Kim Gordon, Thurston Moore / How could you do this to me?" he bemoans, wryly misplacing the very public divorce of Sonic Youth's mother and father figures and subsequent breakup of the band as a slight on the fans themselves rather than an issue of personal turmoil. The song bears a duality, as Birds was reportedly written long ago in the wake of a different kind of toxicity, addressing the toll of a past romantic relationship. The dissolution of one of indie rock's instantly recognizable creative couples are the target of ire here by both subconscious and substitutive means. The instrumental backing is fittingly turbulent, trading 8/8 and 9/8 phrases, never letting the rhythm gain footing. It ends with unpredictable measures, drums pounding in fucked up sync with guitar bursts going off like a malfunctioning pitching machine.
Easterby's piano accompaniment really hit a stride in the preceding Everything Is Subliminal, and that ethic fills Birds with some choice moments. The brightest of those hits in "This Is the Last Level", our first glimpse at the record's prog ambitions. What begins as a tempo-shifting, tinny, frenetic blitz evoking a feverish escape from a never-ending maze soon gives way to an ascending movement led by a piano's pleasance: the kind that, like any power pop of Todd Rundgren, grants a robust comfort. "Whatever happened to the friends I love?" he mourns; the fault of this loss purposefully vague.
The sequence of "Get Behind Me" leading into "Lusciously Lax" is one of the strongest arcs of Easterby's career. The former dips into the well of funk The World Palestine has shown an erratic penchant for on past cuts like "G-Fruit Juice" and "Snow Skis on Summer Skies". A groovy bass pattern consisting of only three notes sees the landscape contort around it with each new bar as the enveloping, anxious synths mold the mood in new, exhilarating directions. Its uncertainty posits itself in the lyrics as Easterby pleads, "I want you / And if you want me too, then just say you do," yet love is not always so simple. Just then, the tethers break loose and a sprawl emits; it's as if his DAW entered a new dimension upon exporting the file. The track collapses into a mesh of aching vocals, resonant bass searching for an exit from its dreamlike surroundings, and the echoes of a lost drum machine. This beautiful barrage transitions seamlessly into "Lax", wasting no time in achieving Birds' greatest pummeling in the form of a grand, fuzzed wall of wailing guitars. Their necks coalesce sweetly and despairingly somewhere between the soaring dynamics of My Bloody Valentine and A Catholic Eduction era Teenage Fanclub. The distortion-crazed epic also acts as a mini suite for Easterby's other projects to meet in one place. Igniting the chord progression off to its loudest heights is a subtly placed acoustic riff that directly interpolates (TWP offshoot) The Royal Palestine's classic "Who's It Gonna B". Later on, as the sun greets what is left of the day after the guitar reckoning, he closes out the inextricable two-act wonder with a relaxed repurposing of The Wichita Flag's "New Places".
As harrowing as it must have been to craft, Birds of the Deep transparently conveys those feelings that served as its reluctant ingredients. This is emo in the purest, most justifiable sense. It is also prog, power pop, DIY, shoegaze; you name it. It is the most involved 38 minutes you'll hear all year. Having dropped during this odd period of quarantine is a disguised blessing, as it will appeal to anyone yearning for contact and understanding. These writings from a once-shut-out heart are perfect sympathies for the physically shut-in masses.
You may purchase the record here.