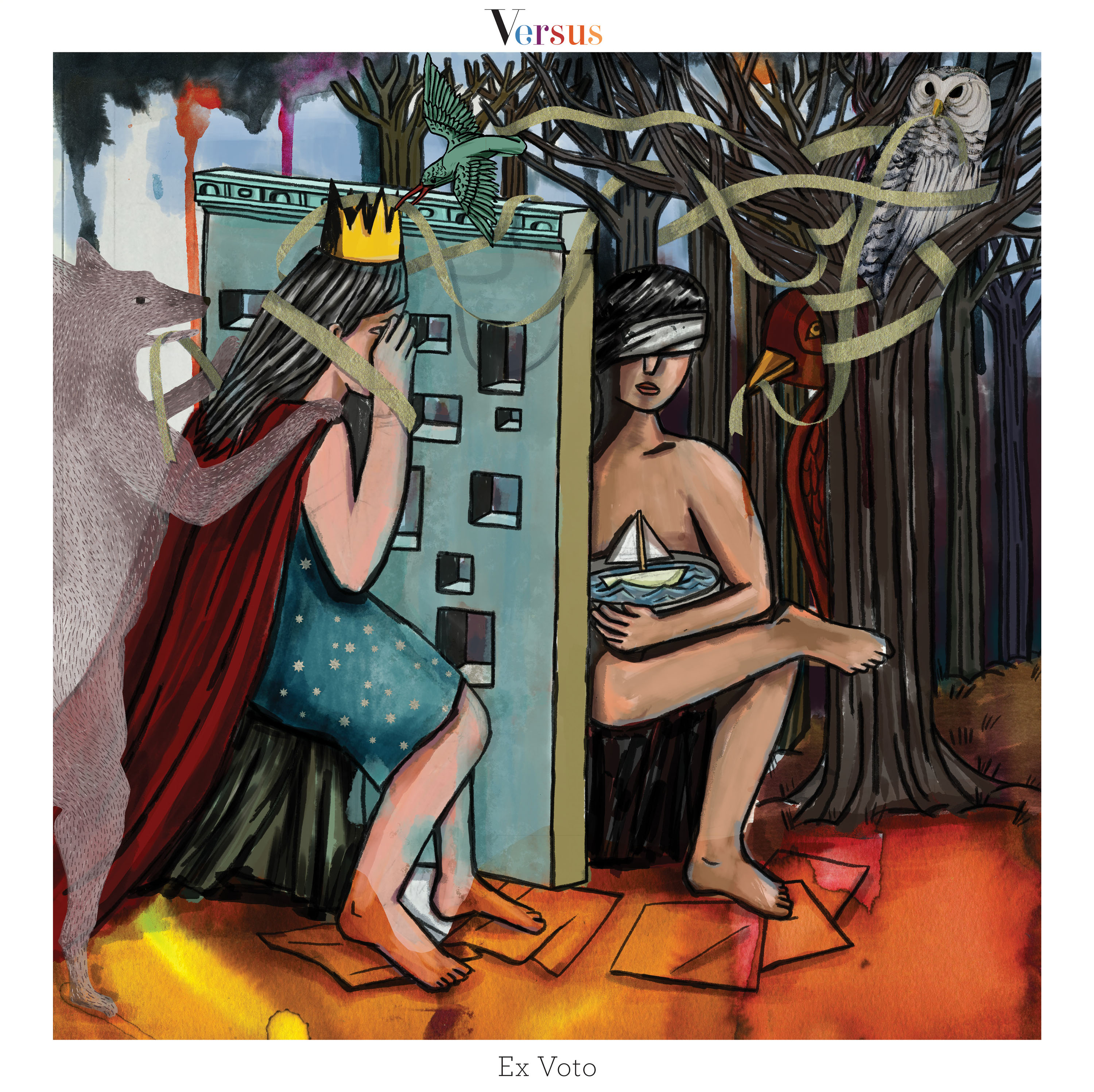 19 August 2019
On record, Versus have been inactive since their Merge swan song, 2010's On the Ones and Threes. Their latest pair of releases have been in the works sporadically for at least half of a decade, so without peering closely or catching the odd Greater New York City Area performance or Riot Fest spot, believing them to be on hiatus would seem likely albeit remiss. Finding a new home with Ernest Jenning Record Co., the Baluyut brothers (Richard, Ed, and James) and Fontaine Toups are back with new LP Ex Voto.
The album opens with "Gravity", which you may recognize from their EP Ex Nihilo that came out in June. This leadoff is a different version, ditching the synthesizer pulse of its former and Toups' breathy oohing melody. Instead, the chorus is more Richard-forward and the vocals are reverb-processed and heavily filtered during the section of Toups' titular repetition. It's hard to pick one over the other, but this one undoubtedly both fits their sonic palette and is closer to properly representing a live cut.
"Moon Palace" bears that quintessential Versus sound: Fontaine and Richard harmonizing in second nature perfection, rock edging on pop (or perhaps vice versa), and an expectation-defying refrain ("Nothing is forever"), complete with subversive chord changes that up the omnipresent curious element to their brooding, dramatic narratives. To that same end, "University" recounts a relationship in desperate need of a lighthouse signal, dissolving out of emotional distance despite sharing a campus. Whatever the degree of its context, the line "Paradise lost but we have survived" knowingly references John Milton's work, suggesting that the characters herein shared a class discussing the epic poem and now the Fall of Man is doomed in memory to coincide with a Plummet into Collegiate Ennui. It brings to mind the writing of two other famous Johns: Hughes and Knowles.
Versus played a premature record release show roughly a month ago at Baby's All Right in Brooklyn, running the gamut of their new material. Well before the set was through, I knew that "Mummified" would be my favorite from Ex Voto when it became available. For the first ninety seconds, Toups' bass line advances like the assembly line in Modern Times, careening yet unshaken from its three-to-four-note cycle, while James and Richard spiral guitars around the sequence, employing outré arpeggios and tasteful whammy bar to elicit various stark moods out of stationary. It dips into prog and features two distinct passages with rather indistinct, atmospheric recorded dialogue, possibly culled from a classic silver screen romance. "Mummified" is as much blistering journey as it is composition.
"Re-Animator" is another huge moment for the record, culminating in a raw, incendiary blowout akin to "Mouth of Heaven". Ed channels occasional member Patrick Ramos's explosive drum display on said colossal cut from Two Cents Plus Tax, bringing their return document to a hulking, existence-affirming finish. Ex Voto ends by shouting at/challenging their "new creator" to give them life. After nine years of radio silence, they have proven still very much electrified and full of the stuff.
You may purchase the record here.