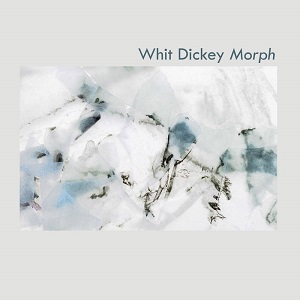 3 November 2020
Drummer/composer Whit Dickey (David S. Ware, Joe Morris, Matthew Shipp) already released one record this year – the remarkable Expanding Light. Now he's followed up with the two-disk Morph, and its presence on the venerable ESP Disk label is an obvious hint as to what you're going to get. Call it free improvisation or spontaneous composition or whatever metaphor for extemporaneous music you like – it's been the mainstay of the label, and field of rich soil for Dickey, for decades. He's joined here by Shipp, his most frequent collaborator and one of our best contemporary jazz pianists; trumpeter Nate Wooley also weighs in on disk 2.
Given both label and musicians' reps, one might think this album is brimming over with unformed chaos. But that's not entirely correct. The players do sometimes push the limits of listenability – indeed, jazz fans whose opinions have been formed by the Wynton Marsalises and Stanley Crouches of the world would argue it barrels way past them. But Dickey's rhythms, while rarely on the beat as such, avoid whirlwind aggression for a more meandering, almost playful ride on the kit. Shipp is perfectly at home with such whimsy, letting his talent for melody guide even his most freeform excursions. The piano/drum duets on disk 1 exhibit a joy in the act of creation, as the two old friends react to each other's playing with an instinct that can only be built up over a long time together.
Wooley brings a different vibe to the table, with his meditative tone, swirling counterpoint, and a feel akin to noir. (Which might account for disk 2's subtitle: "Pacific Noir" and the four-part "Noir.") Though clearly a top-flight improviser, Wooley isn't quite the free spirit that his compadres are, which grounds the songs in, if not a more traditional jazz format, at least something closer to a realm non-free jazzers would understand. That doesn't mean easy listening or basic swing, mind you, but at least Wooley sounds less like an extra-dimensional alien than his cohorts. The trio moves through a variety of colors here, from brightest green to coldest grey, with Shipp and Dickey providing support to Wooley's excursions as often as challenging his atmospheres.
Taken together, both disks complete a truly exceptional piece of work. Dickey's name isn't as well-known as his co-workers', but that doesn't mean any fan of free jazz should sleep on his records this year.