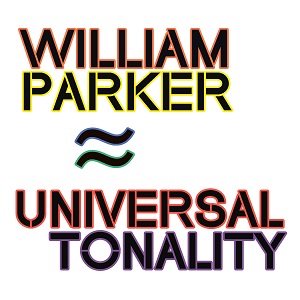 29 September 2022
For bassist and composer William Parker, the term "universal tonality" means, simply, "if we're all breathing together, we're singing together." More specifically, as on his new, eponymous double album, it means a group of musicians from different backgrounds, cultures and philosophies coming together onstage or in a room, with little to no preparation beyond the outline Parker gives them, to make music.
The prolific bandleader – for whom sleep is apparently a foreign and useless concept – illustrates the concept with this 2002 concert, featuring a sixteen-piece ensemble of musicians with whom he'd either worked for years, or would go on to collaborate with since. Saxophonist Rob Brown, guitarist Joe Morris, pianist Dave Burrell, Revolutionary Ensemble percussionist Jerome Cooper (here on the West African balafon), drummer Gerald Cleaver, violinist Billy Bang, vocalist Leena Conquest, multi-horn player Daniel Carter, legendary OG free jazz trombonist Grachan Moncur III and Japanese konumgo player Jin Hi Kim, among others, join Parker for a multi-chapter, nearly two-hour suite. While clearly Parker has some direction in mind here, he doesn't conduct as such – for example, he gave Conquest texts he'd written, but didn't tell her what to use or when. Encouraged by their leader, Parker's players have tremendous freedom to interpret his will as they see fit.
Yet there's no point in this album that ever sounds like anything's happening that Parker doesn't want. It's as if he imprinted his direction onto his musicians, and let them have their way with absolute faith in the outcome. There's not a false or out-of-place note, a single line that doesn't support Parker's vision, even if it's unstated. Magnificently performed and impeccably recorded, Universal Tonality is full of contradictions – by turns playful, intense, poetic, strange, chaotic and focused – but it's always undeniably coherent, and, ultimately, very, very beautiful.