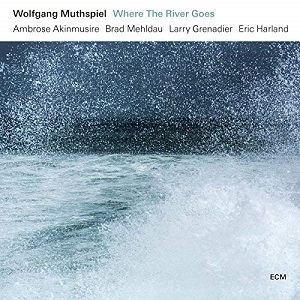 3 December 2018
Though he's been slinging strings for a couple of decades, Austrian guitarist Wolfgang Muthspiel is hardly a household name, even in the jazz world. But it's a mark of the respect for which his peers have for him that he can attract the kind of talent that makes up his band on his latest release Where the River Goes. Rising trumpet genius Ambrose Akinmusire, piano superstar Brad Mehldau, in-demand drummer Eric Harland and dependable bassist Larry Grenadier have their own solo careers and/or packed calendars, yet appear with Muthspiel for, except for Harland, the second time.
The potential is there for a blazing fire of improvisation, the kind that happily burns up the ears of jazz fans. But Muthspiel is not that kind of player or writer, at least in his own projects. He prefers a more sedate tone, with attention paid closely to his melodies, rather than merely setting up heads for extended soloing – a philosophy with which Mehldau and Grenadier, in particular, feel perfectly comfortable. That encourages the musicians to concentrate on ensemble playing, rather than round-robin improv, as everyone sublimates their talent in service to the tune.
In that regard, "For Django" (the obligatory Django Reinhardt tribute every jazz guitarist must compose – it's in the handbook), "Descendants" and the title track almost feel more like classical music, with the jazz atmosphere being conveyed by intonation and feel, rather than improvisation and swing. Which makes "Clearing" all the more remarkable – it's an exercise in spontaneous composition that demonstrates the commitment everyone brings to this project, sounding like it was written out beforehand. Muthspiel also knows when to step outside the box – "Buenos Aires" leaves the band behind for an acoustic solo more attuned to Spanish classical music than jazz, while "One Day My Prince Will Be Gone" pushes an arrangement closer to free jazz than Muthspiel's usual timbre – a situation of which Akinmusire takes full advantage. "Blueshead," written by Mehldau, puts the typical jazz swing back into the proceedings, letting the musicians blow without holding back.
Plenty of jazz fans might argue that Muthspiel's relationship to the form is tangential at best. But even if that form isn't obvious, the feel remains. The axeman may not indulge in fretboard frenzy, but he understands the genre's need for exploratory composition and meets that need with grace and taste.