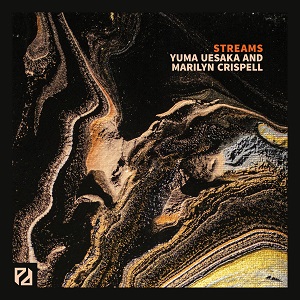 15 October 2021
A longstanding practice in the jazz tradition is the concept of veterans collaborating with up-and-comers, and that's what happens on Streams. Rising young player and composer Yuma Uesaka (Ocelot) approached expert avant-garde pianist Marilyn Crispell after a gig to propose playing together as a reeds/piano duo – something Crispell has already been long adept at, thanks to collaborations with mavericks like Anthony Braxton, Joseph Jarman, Joe Lovano and Tim Berne.
Anyone familiar with those luminaries will grok the vibe here, as the pair balance composition with improvisation, elegant lyricism with jagged chaos. Nowhere is this better expressed than on the title track, which begins with liquid horn over atmospheric piano, drawing the listener to the table with pure beauty, before pulling the tablecloth off and sending dishes and silverware flying. The duo wastes no time following up with "Capillarity," which begins with foghorn-like clarinet tones over a stormy keyboard sea before becalming itself in the twilight, as the waves slowly recede and the horn waxes elegiac. Uesaka and Crispell bring their trilogy of spontaneous compositions to a close with the appropriately frenetic "Torrent," which tumbles down the mountain in a flurry of low-tone clarinet and key-busting piano gymnastics.
Those tracks form the heart of this collusion, and well represent what the duo is trying to do. Sample those songs somewhere, and there's little doubt you'll be happy to float along these Streams.