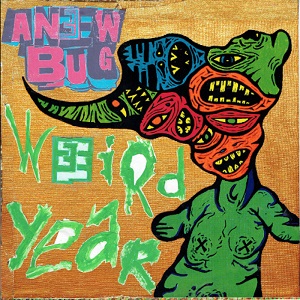 11 April 2015
A little more than a year after their stellar debut, Long Island's A New Bug continue their foggy haze of hard psychedelia with a solid sophomore selection of songs.
Beginning with the boldly titled, "C.U.N.T.," a grungy rager that's almost a lost Nirvana B-side, Weird Year explodes with Blue Cheer fuzz and Grand Funk Railroad bite, while retaining the Doors and '90s Seattle rock worship of their previous effort. Songs like "Switchblade" and "(Nameless)" nod to their punk leanings, while "Annunaki Dream," "Cosmonaut" and "Fall Apart" evoke shamanistic psychedelic energy. "Winter Song" even delves into funk territory, while acoustic guitars feature prominently on the softer psyche of "The Western" and "Fiend for an Enemy." It's a well-rounded assemblage of songs that rages from liquid to blazer with no downers.
In a place where tribute and cover bands dominate the market, A New Bug brazenly defy the status quo with a steady stream of originality born from a true love of music. Whether anyone takes notice is only half as important as doing it in the first place, and that's what makes them so good.
comments powered by