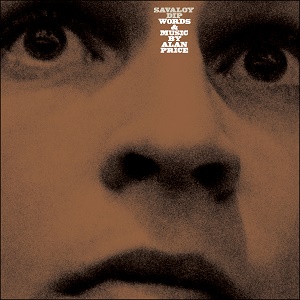 11 January 2016
In the mid-'70s, Animals founder and former keyboardist, Alan Price, basked in the glow of his own successful solo career. Riding high on his widely acclaimed soundtrack for Lindsay Anderson's 1973 comedy, Oh Lucky Man!, Price poised to deliver his next masterpiece, which turned out to be 1974's Between Today and Yesterday, not the album advertised in the Warner Bros. published Circular. For some reason nobody remembers, that album was shelved and forgotten, with only a handful of 8-tracks pressed and promptly recalled, only to finally see its first official release forty-two years later.
Listening to Savaloy Dip only furthers the mystery as to why the album was shelved in the first place. Ranging from the funky blue-eyed soul of the opening "Smells Like Lemon, Tastes Like Wine" to the Kinks-y drive of the centerpiece title track, and finally to the introspective vulnerability of the closing "Between Today and Yesterday" (the foundation for the album that actually was eventually released), Price's songwriting and performances are as strong as ever. His voice blends the brash bombast of Animals vocalist, Eric Burdon, with Randy Newman's smooth husk and just a tad of Ray Davies for balance, while his exquisite keyboard playing remains at the center, anchoring the other instruments spread throughout the stereophonic production. It's a true lost recording that continually begs the question "Why?" as it unfolds through the speakers.
Without a doubt, Savaloy Dip deserved more than it got in 1974, but, fortunately, it hasn't been lost forever. Turn it up and hear what we've been missing for over forty years.
comments powered by