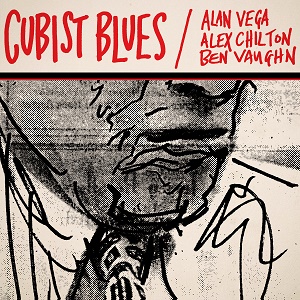 2 December 2015
In early December 1994, Suicide's Alan Vega, Big Star's Alex Chilton and singer-songwriter Ben Vaughn crammed into a lower Manhattan studio for two nights to record with no boundaries, structured songs or preconceived notions of what they were supposed to do. The lineup went on to perform twice, extending their entire existence to four nights, and then it was over . Originally released in 1996 by Henry Rollins on his 2.13.61 imprint via Thirsty Ear, these recording sessions are available once again, remastered with new liner notes, for all of us who missed it the first time around.
Cubist Blues defies any definition of a "supergroup." The people involved didn't get together for money or because somebody told them it would be good for their careers, but because they simply love music, recording and each other's company. Songs compose as they happen, ideas become improvisations set to tape in a smoke-filled room. Chilton and Vaughn abandon their typical musical roles to provide guitar, bass, drums and keyboard as needed in the moment. Vega draws inspiration from the sounds around him and delivers his signature Elvis-cum-Iggy snarl. The result is something like Suicide as a rock band – alive with energy, electricity and ingenuity, but informed by blues, doo-wop and street balladry.
Seeking that legendary album you haven't heard? This is it. Turn it up and let your jaw drop.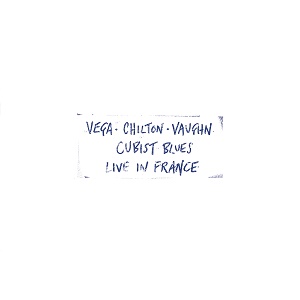 As previously mentioned, this stellar lineup only performed twice. The final show, recorded December 7, 1996 at Trans Musicales, Rennes, France, will also be released as a double 12" including a download of their only other live performance at The Mercury Lounge in New York City. Here, the one-off studio compositions come alive before an enthusiastic audience that actually seems to grasp the importance of what's happening before them. Even better, Chilton calls for Suicide's "I Remember" in the encore, and the band delivers an astounding improvisation on the song led by his brazenly distorted guitar with Vega's mesmerizing feral vocals. It's everything it should be and more for those who fully understand what is happening.
comments powered by