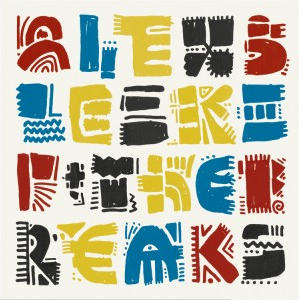 6 June 2013
In a band photo that accompanies the new Alex Bleeker album, one of the Freaks, I'm not sure which one, is seen wearing a Steely Dan t-shirt, Becker and Fagen looking pretty cool tinted green. So if you thought Steely Dan belonged to the Daft Punks of the world today, know that even for Freaks with no hope of achieving such levels of studio precision and session man magic, Steely Dan remain an idea of the musical imagination, which can also be expressed by more ordinary and imperfect means. That said, How Far Away is one of the best-produced albums of its kind since the first album by Bleeker's main band Real Estate in 2009, rich with all kinds of mysterious everyday textures. "Time Cloud" is as dreamy and gentle as the weird air that contained suburban dogs and their chains, and reminds us that music is representational like any art, and what it represents isn't us, but the natural, man-made world we inhabit.
That's the vibe I always get when listening to Real Estate, anyway, that the music is absolute evidence of the planet's chemistry. So it's interesting to find out that a band as great as Real Estate, a band that achieves something so specific, is also the sum of its parts. This year has already given us one telling side project, Matt Mondanile's escapist city songs on Ducktails' The Flower Lane, and now Bleeker counters with the folk music of safe American neighborhoods. On the jazzy, subdued "Steve's Theme," even the inhabitants of those 'hoods can hear their own rhythm as faintly exotic. Instead of Tropicalia, Temperalia? Like Neil Young on Living With War (and in general), Bleeker shows a remarkable facility for finding a vocabulary of modern day folk songs. His words occupy a pleasing and non-embarrassing middle ground of specificity, so that they're immediate and, if not timeless, at least allow us to imagine them extending into the future undistorted. On "Step Right Up (Pour Yourself Some Wine)":
Come with me for just five minutes please
Before I go home and you go to a party
It sounds like something happening now, but it resonates per our ability to imagine it having happened in the past… And I'm lost in the confusion that "Time Cloud" names.
How Far Away takes me back to Montana, where people make music like this, with no notion of having the world hear it, with lightly distorted vocals designed to bring the skeletal recordings a little closer to the density of the world they're transcribing (Bleeker does this too, on "Home I Love"). Well, there's one guy I know there, at least, who recorded a lot of wonderful songs under the name The Sugarbeeters, in the mid-00s primarily. It should've been "___ ___ & The Sugarbeeters," but he's never really found a group of like-minded people to help pursue his vision. Bleeker is lucky to have the completion and justification of that phrase, "and the," the most hopeful phrase in music. As for The Sugarbeeters, his full-band studio ideas can still only be heard as solitary home creations (and even now I'll mail a CD of the best creations to anyone who wants one), another contented dream of perfection. From 2005's stunning "My O Me":
Drove up the West Coast late last summer
From the High Sierra sun we flew
I felt as though we were a part of everything that's wrong
"But oh well," he concludes. That kind of anxiety is under the peaceful surface of Bleeker's songs, too, but it's part of the texture of life, not a major crisis, just something to be shrugged away.
This is the attitude that created the sweet words of Bleeker's sole songwriting credit on Real Estate's Days, "Wonder Years," the small song with the expansive title that revealed him as the George Harrison of the group. Before All Things Must Pass, Harrison would contribute one or a few songs per album, aspects of a well-lived life, only part of the picture but so complete in themselves that anything more would've been irrelevant. How Far Away is like that version of George extrapolated as a modest, perhaps ultimately unheard album, and thus does the people of Montana proud.