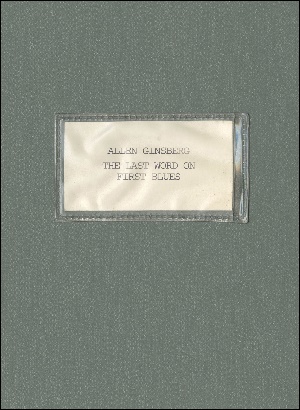 18 May 2016
Though known primarily as a poet, Allen Ginsberg also recorded several albums of music during his lifetime. First Blues, released in 1982 on John Hammond Records, documented a decade of sporadic recording that finally came together in a double-LP. This magnificent reissue of that monolithic work presents the entire original album, with an additional third disc of previously unreleased music found while researching the project.
Much of Last Word resides in the absurd counter-culture beatnik neighborhood of The Fugs First Album if marked by Bob Dylan. In fact, the legendary folk singer plays on the first three tracks, recorded in 1971 during the Holy Soul Jelly Roll sessions, explaining their loose Blonde on Blonde-style structures and psychedelic diatribes addressing the Republican National Convention ("Going to San Diego"), flying to Puerto Rico ("Vomit Express") and homosexual celebration ("Jimmy Berman"). From here, we turn to sessions recorded in 1976, which were supposed to be released by CBS Records, but instead left the stuffy execs running as far as they could from the blatant references to open homosexuality, outright profanity and paranoid, yet factually accurate, attacks on the CIA. This is where Ginsberg, the man, fully reveals himself as he strips naked, flaunts himself and laughs at anyone who can't take his perverse sense of humor. The 1981 sessions tone things down a bit in the beginning with some gentler, more spiritual folk songs reflecting on life, death and meaning, as well as musical renditions of William Blake's "Tyger" and "My Pretty Rose Tree." Humor pervades, however, with the sneering rock'n'roll of "Dope Fiend Blues," Peter Orlovsky's ridiculous country rendition of his poem, "You Are My Dildo" from the 1978 collection, Clean Asshole Poems & Smiling Vegetable Songs and "Old Pond," which has some fun with yodeling bluegrass. Tack on the astonishingly beautiful Steven Taylor composition, "No Reason" and David Peel-like punk of "Capitol Air" and you only have the first two discs.
The third disc collects some odds and ends from the '71 and '76 sessions like "Nurses Song," an extended droning waltz, and the entire fourteen-and-a-half minutes of doom ballad "September on Jessore Road," as well as the Hawaiian-influenced "Slack Key Guitar" and beat blues punk of "NY Blues." "Come Along Vietnam" exists as a 1975 rehearsal recording, leading to two live performances from 1984 featuring none other than Don Cherry on kazoo. "Do the Meditation Rock," recorded in 1982, possibly with Bob Dylan on bass (depending on who you talk to) returns to the Fugs groove. And then the journey is over and you're left sitting there with revolution on your mind and the desire to make something truly happen.
With music as his mouthpiece, Allen Ginsberg stepped aside from his role as poet and into his role as threat. He message was simple: be yourself, do what you want, don't hurt anybody and have fun. There are plenty of people out there who would love to eradicate this message solely to appease their own delicate insecurities. There's an election coming up soon. What are you gonna do?
comments powered by