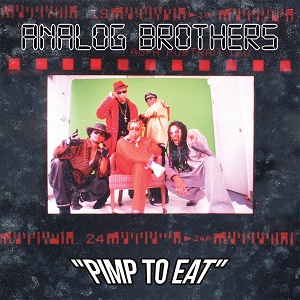 8 June 2016
Back in 2000, Ice-T and Kool Keith (Ultramagnetic MCs, Dr. Octagon) joined forces with Marc Live, Black Silver and producer Pimp Rex for a mindbending hip-hop album that, somehow, barely blipped on the radar. More than a decade-and-a-half later, that unheard masterpiece, originally released on PimpRex/Ground Control, sees a proper reissue that will allow earthlings to bask in its otherworldly glow once again.
As with any Kool Keith project, Pimp to Eat exists in a dimension of its own. Rex Pimp, as Rex Roland JX3P, weaves a futuristic funk odyssey somewhere between Arabian Prince, Egyptian Lover and RZA, a backdrop that brilliantly fuses hip-hop's past, present and future into a single sound. Kool Keith embodies Keith Korg in his stream-of-consciousness raps about robots, aliens, cybernetic sex, the music industry and general weirdness, alternating with Ice Oscillator (Ice-T), who takes a refreshing break from the stark reality of inner city streets to muse on such otherworldly subjects. As raunchy as they get, there's actually a tender moment in "Country Girl" where women are respected as beings of love and beauty rather than mere sex objects. It's an unusual take on hip-hip spearheaded by two of the genres best, most important rappers.
Sadly, Analog Brothers only delivered one album before spreading into the ether with various splinter groups. Hopefully, this reissue will spark a sequel.
comments powered by