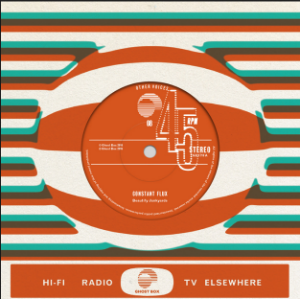 9 July 2016
Lisbon, Portugal's wonderful psych folk band, Beautify Junkyards, has struck gold with their new 7", part of the Other Voices series. I have reviewed them before, and exclaimed my delight at their warm, pastoral sound. They've oft been compared to Broadcast, not a band I follow, so I can only say that they bring to mind the swirling magic of the 60s in a similar fashion to Air (the instrumental parts, that is). Listening to them is like stepping out of time and being suspended in golden sunshine, eyes closed against the dazzling brightness and feeling comforted by the beauty of this music. No matter that the gorgeous "Pirâmide" is sung in Portuguese by the honey-voiced Rita Vian, it's the emotion conveyed that enchants the listener. I am also reminded a little of the French band Autour de Lucie, who definitely shared some of the same influences as Beautify Junkyards.
"Constant Flux" has a waft of melancholy rolling through it, and its chamber pop aspect is lovely.
Two songs is not enough for me, so I anxiously await this group's next album. In the meantime, this single is a winner that you should pick up post haste.
Pick up the single over at Ghost Box Records.
comments powered by