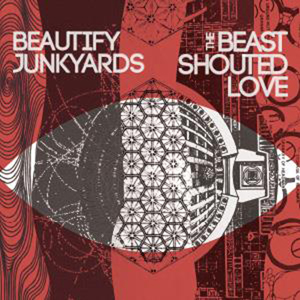 22 September 2015
Beautify Junkyards is a Portuguese group that made a great covers album back in 2013 with treatments ranging from Vashti Bunyan to Kraftwerk. They now have unveiled their official debut of original music, and it was worth the wait! This is easily one of the best psych folk albums I have heard in years. It isn't often that I get this excited about a band, one that breaks new ground in what can be a worn out genre. The band skirts Hauntology and BBC Radiophonic Workshop material, but moves past with their own unique flavor of folk music.
"Sun Wheel Ceremony" is brilliant, combining trippy folk with field recordings of bird song, and it's a pastoral masterpiece. It is like a daydream behind closed eyelids with the afterburn of bright sunshine. "Canterbury" is magical and mysterious, with amazing harmonies and flute-like washes of sound. "Rainbow Garland" is another special song suffused with the wide-eyed innocence of 60s music crossed with modern elements. Vintage instruments ranging from xylophone to omnichord lend themselves well to the late 60s, autumnal feel of this record. And then we have Rita Vian's gorgeous vocal turn on "Pés Na Areia Na Terra Do Sol", and it matters not that it's sung entirely in Portuguese. The melody and her voice carry this along splendidly, sun-dappled folk streaming out onto the verdant green of a summer lawn. I love the way the sound of the ocean is interspersed in the mix as Rita's voice takes on a watery texture. "Lake" is widescreen folk, with perfectly twined harmonies and a cinematic feel along with interesting percussion. "Rite of Passage" is rife with field sounds and starts with voices before unfolding into a lovingly played instrumental with cool, sci-fi keyboards at the end.
"Tomorrow's Children" meanders into dream pop territory, which as we know isn't far removed from psychedelia. Slightly creepy keyboards and plucked guitars accompany João Branco Kyron on what seems like a dark lullabye. "Drop City" is otherworldly folktronica with that cool vintage sound bands like Death and Vanilla pull off so well. Rita's airy vocals are the perfect complement to this great song. "Longo Amanhã" delves back into chamber music with music box precision and angelic vocals. "Refresco Eléctrico" is filled with magic and wonder, and its chiming notes are a balm to the senses. "Technicolor Hexagon" starts up with what sounds like a circus organ, which then builds slowly in mesmerizing layers of keyboards. The listener is swept into a dream that swirls about in a kaleidoscope of colors. It caps off this wonderful record from a group more people need to hear. For fans of Heron, The United States of America, and Broadcast as well as the aforementioned groups.
comments powered by