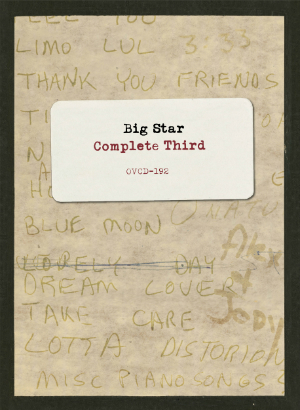 16 October 2016
Wow, I am so honored to review such a classic recording. I know that is easy to say, but I don't often get such chances, and this complete (really complete and exhaustive!) three disk set has absolutely everything that was ever recorded in conjunction with these sessions. From a listener's perspective, I am a bit overwhelmed by such riches. An embarrassment of riches, really. Where do I start? Well, I could tell you that Big Star has influenced virtually everyone I have listened to over the past thirty years. Much like The Velvet Underground (covered here, of course) has informed so many musicians over the years. As stated above, this set includes every demo, rough mix, alternate take and final master known to exist, plus extensive liner notes from original participants and artists deeply influenced by Big Star, as well as many previously unseen photos. There are 69 total tracks, 29 of which are previously unheard session recordings, demos and alternate mixes made by producer Jim Dickinson and engineer John Fry. The search for these recordings took nearly a decade. The album was originally recorded in 1974 but didn't see the light of day until 1978. It was subsequently re-released, renamed (Sister Lovers at one point), and re-sequenced many times throughout the years. And so, here we have the complete collection with all existing recordings present here in October of 2016.
I am reviewing this in order as I listen, and since the early cuts are demos, I may not mention them twice when they reappear, or will just do so in passing. Track 1 is "Like St. Joan (Kanga Roo)", a downcast ballad if ever one existed. Yet, it's also as beautiful a song as you'll hear on this collection, with pristine sound and Alex Chilton's mournful voice. There are echoes of all the artists that came after in this sound, covering this song and others with complete reverence. "Lovely Day (Demo)" has gorgeous 12 string acoustic accompanying Alex, and its starkness is what makes it work. "Downs (Demo)" is extremely short, and sounds like an outtake from an earlier album. "Femme Fatale (Demo)" is a wonderful cover of the Velvets tune, straightforward and earnest. "Thank You Friends (Demo)" is gorgeous, no matter that it's a demo. Alex was in top form here, all evidence to the contrary. I can't speak for his mental state, though it's fairly well known that he was gutted by the the lack of commercial success of the band's first two albums, which pushed him in a different creative direction than his earlier work. "Holocaust (Demo)" is another devastating song, with simple piano and Alex's vocal line. "Jesus Christ (Demo)" is in complete contrast, an upbeat ballad about Christmas that begs the listener to sing along on the chorus. "Blue Moon (Demo)" is also lovely, with its somewhat hopeful lyrics offset by Alex's overwhelming sadness on this song. "Nightime (Demo)" reminds me of being totally alone in a crowd of people, completely detached from the scene. I am not sure why it gives me this impression, it's just a feeling I get as I listen. "Big Black Car (Demo #2/Acoustic Take 1)" is stark and distant, and when Alex claims nothing can hurt him, you know it's probably the opposite of reality. "Don't Worry Baby" is a straightforward Beach Boys cover with beautiful harmonies. "I'm In Love with a Girl" was no doubt written for Alex's female obsession, Lesa Aldridge, the woman with whom he was engaged in an intensely romantic, wholly dysfunctional relationship. She was the subject and co-instigator of many of these songs. But man, all obsessions aside, what an amazing song. "I'm So Tired" is a drunken sounding duet with Lesa that hardly bests the Beatles original, and is only interesting from an archival perspective. "Baby Strange" is a sloppy T-Rex cover, reminding me somewhat of all the covers The Replacements would zip through at a hundred miles an hour, only this is slow and tries to hold it together for a shambling 2:52. Some of the rough mixes here are so rough that the sound crackles in my headphones. Case in point: "Kizza Me (Dickinson Rough Mix/Alex Guide Vocal)". Thing is, it reminds me too much of Game Theory, and that just makes me sad and sentimental. "Till the End Of the Day * (Dickinson Rough Mix/Alex Guide Vocal, Kept As Final Vocal)" is a Kinks cover that fares better, holding it close to the original, though rough still defines the sound quality. "Dream Lover * (Dickinson Rough Mix)" has all the markings of a great song in place even in the rough mix, but you will prefer the final version.
Moving to Disk 2, there's a rowdy version of "Whole Lotta Shakin' Goin' On (Dickinson Rough Mix)", as well as the waltz cadence of "Take Care (Dickinson Rough Mix)" with a crooning Alex and some strings. "Thank You Friends (Dickinson Rough Mix)" is much closer to the final version, and it certainly bridges the material between the second and third albums. "Nature Boy (Dickinson Rough Mix)" is a strange choice for a cover, yet it works well. Penned by Eden Ahbez, it was a hit for Nat King Cole. "Lovely Day (Fry Rough Mix)" is pretty and rather ornate, veering a bit close to chamber pop with great backing vocals. The Fry rough mixes mostly all sound close to finished, but don't differ too much from the final masters. I really dig "Till The End of the Day (Alternate Mix #1)" just as much as the previous appearance on this collection. This one jumps even more and the band sounds really on, hearkening back to Alex's stint in The Box Tops, mostly from a stylistic perspective. Even the off kilter guitar solo works here! "Holocaust (Fry Alternate/Rough Mix)" includes cello and piano, and the bass notes frame this song perfectly. "For You (Alternate Version/Alex Vocal)" is a tender love song, and it's one of my favorites on this entire collection. Just wonderful! "Take Care (Alternate Version/Alex Vocal)" features whistling and an accordion, and is a really cool version of this tune.
And then we arrive at the last disk, full of the final masters. "Stroke it Noel" is a glorious slice of chamber pop with lovely strings added as the perfect complement. "Downs* is an odd, slightly discordant song with barroom piano. The final version of the charging "Thank You Friends" varies little from the rough mix, save for the backing vocals. I actually think I prefer the rougher mixes here, maybe there is too much going on in the final version. The final version of "Jesus Christ" has the odd bits of "Manana" tacked onto the beginning, which is an odd choice, but OK. "Blue Moon" in its final cut is tremendous, and features oboe and strings. "Kizza Me" always unnerves me slightly, as I have heard it covered by Mitch Easter and some of my other heroes. This version has daring guitar and piano runs with strings connecting it all in bizarre fashion. "For You" reappears in a chamber version, and this sets it apart. I think maybe I prefer a simpler arrangement, though this is lovely. "You Can't Have Me" is a song I've heard often from others, and they've done it up good. It's over the top weird, and dredges up musical memories for me. "Nature Boy" closes out this collection in a quiet, piano-driven way. It's a fitting coda to a sometimes jumbled, often crazy, and dazzlingly brilliant, reminding completists and slighter fans alike what a towering talent Alex Chilton was. It will make you sad but also completely joyful that this archival collection exists. Another great reissue package from the wonderful folks at Omnivore Recordings. Absolutely essential! Pick it up at the usual media outlets or over at Omnivore.
comments powered by