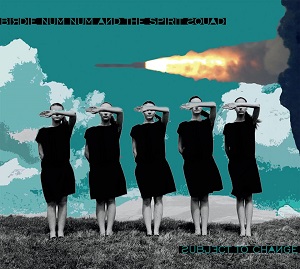 5 December 2014
Fifteen years into their heady brand of sonic mind expansion, New Hope, PA's Birdie Num Num and the Spirit Squad, the brainchild of vocalist/guitarist Joe Ujj, drops their sixth album like a flaming pile of space junk.
Subject to Change brazenly defies any expectations based on the name alone. This isn't happy-go-lucky, narcissistic indie pop, it's psychedelic spacerock built on a platform of dusty, desert-tinged stoner rock. Opening slowly with the piano-driven, Oceanographer tide of "The Creek" and "Lipstick Hate," a Damien Jurdao-like bluesy folk rocker, the songs slowly build into a kaleidoscope of Nuggets angst, Kyuss fuzz and Hawkwind hyperdrive, Ujj's heavily reverbed voice a sneering mix of Seeds vocalist Sky Saxon and Black Sabbath's Ozzy Osbourne. "Ride the Pony" recalls the trippy acid blues of super-obscure bands like Roland Kovac New Set, while "Your Majesty" conjures Secret Machines on their heavy eponymous third album. Solid all the way through, it demands multiple listens just because it's so damn good.
Why Birdie Num Num and the Spirit Squad aren't household names, at least among underground music aficionados, is one of those cosmic mysteries that will leave kids scratching their heads in fifty years. Don't pass this one up.
comments powered by