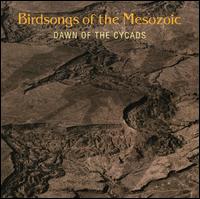 10 July 2009
When Birdsongs started in 1980, it was like nothing else on the scene. That co-founders ROGER MILLER and MARTIN SWOPE were in MISSION OF BURMA led to misguided expectations for Birdsongs, which is more prog-rock than punk. Miller switched to keyboards, and the other two members were keyboardists ERIK LINDGREN and RICK SCOTT; the profusion of keyboards, lack of a bassist, and use of drum machine make this as different from MoB as possible. They were basically a modern classical chamber group playing written music, but they played at rock clubs, and despite the unusual instrumentation Birdsongs rocked hard – in a looping, minimalist way.
This two-CD compilation includes all three of their Ace of Hearts releases – Birdsongs of the Mesozoic EP, Magnetic Flip (with its notorious distillation of STRAVINSKY's The Rite of Spring and "Theme from Rocky & Bullwinkle"), and Beats of the Mesozoic – predating Miller's departure in the autumn of 1987. And even if you've already got all of those albums, you'll still want this for its 45 minutes of previously unreleased music: seven pieces from a May 1987 show and three studio bonus tracks. It's worth noting that Swope's guitar work is unleashed a bit more on the live stuff.
And now comes news that Miller will replace current member KEN FIELD (Lindgren and Scott remain, with current guitarist MICHAEL BIERYLO) on a short tour to support this reissue. The band's repertoire for these shows will be drawn from this Ace of Hearts material, and they're even using vintage equipment to recapture their original sound. They're still like nothing else on the scene.
Thursday, July 23 at AS-220 in Providence, RI
Friday, July 24 at Mercury Lounge in New York City, NY
Saturday, July 25 at Kung Fu Necktie in Philadelphia, PA
Sunday, July 26 at Talking Head Club in Baltimore, MD
Thursday, July 30 at Johnny D's in Somerville, MA