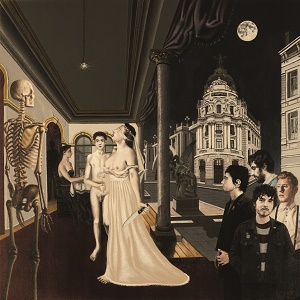 30 January 2017
Madrid, Spain's Biznaga deliver their first domestic LP of punk rock en Español just in time for the leader of the free world to announce his war against the majority of the Spanish-speaking world.
Though officially their second full-length, Sentido del Espectáculo serves as a perfect introduction to this quartet who, perhaps unwittingly, have provided the soundtrack to the next American Revolution. Late '70s UK punk merges with a Killed by Death vibe and the '80s anarcho-UK sound for a mind-blowing album of epic proportions. Sex Pistols grandiosity meets a Clash-like street sound that filters perfectly through Jam power pop. Single-note Buzzcocks guitar solos grace gritty anthems of anger and frustration while jagged, jangly guitars recall the post-punk resistance of Zounds and The Mob. Even Turbo AC's make their mark on the more Motörhead-driven tracks, especially when the guitar leads explode in Spaghetti Western surf rock. It's the album we needed to inspire the resistance.
Sometimes people can't get beyond the language barrier and appreciate the music as it is. That barrier is in your head. You won't get Biznaga only because you don't want to. Their message is universal: La revolución existe.
comments powered by