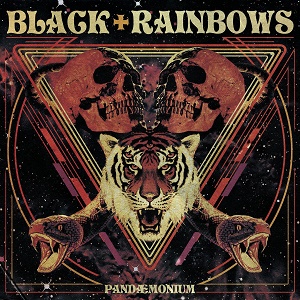 4 April 2018
After eleven years of mind-blowing releases, Italy's Black Rainbows deliver their sixth, best, most solid album yet.
Pandaemonium follows two years after the Rome-based trio's excellent Stellar Prophecy. Obviously, they spent that time well because their song-writing and playing have grown exponentially. Though never deficient in those areas, they've now evolved into the powerhouse they were always meant to be. The earlier Hawkwind-ish tendencies take a backseat to heavier Black Sabbath sounds, making them prime heavyweights in the stoner/desert rock division. Bassist Giuseppe Guglielmino and drummer Fillippo Ragazzoni create a rhythm section that can crush marble into dust, while guitarist Gabriele Fiori's leads surpass every single rock guitarist of the past decade (except maybe Tony Iommi on Black Sabbath's 13). They're at their peak and flying on flames.
Led Zeppelin had Physical Graffiti and Black Sabbath had Sabotage (or Sabbath Bloody Sabbath for some). Black Rainbows have Pandaemonium. It's that good.
comments powered by