28 October 2009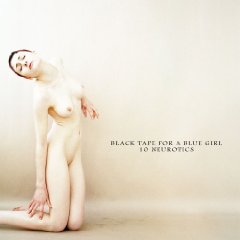 BLACK TAPE FOR A BLUE GIRL has long been considered a leading light in the so-called "darkwave" movement in goth rock. Like a lot of innovators, however, SAM ROSENTHAL (the act's principal songwriter and sonic architect since the beginning) doesn't fit so easily under the usual notions of a single genre – listening to an old BTFaBG album, with its classical songs structures and atmospheric arrangements, won't bring to mind the same scene that spawned BAUHAUS, CHRISTIAN DEATH or SISTERS OF MERCY. Having said that, the band explored straightforward gothic rock on its last album Halo Star, and spends time with the burgeoning subgenre "dark cabaret" on its latest album 10 Neurotics.
Despite its title, 10 Neurotics has fourteen songs and revolves around themes of alternative sexuality. Joined by vocalists ATHAN MAROULIS (SPAHN RANCH), LAURIE READE (ATTRITION) and dark cabaret pioneer NICKI JAINE, as well as DRESDEN DOLLS drummer BRIAN VIGLIONE as musical co-conspirator, Rosenthal digs into sexual practices not usually covered by your average episode of Desperate Housewives. With lush, minor key music that draws more from JACQUES BREL or COLE PORTER than anything overtly gothic or even rock, BTFaBG goes from public sex ("Caught By a Stranger"), to cuckolding ("Tell Me You've Taken Another") to dominance and submission ("The Perfect Pervert," "The Pleasure in the Pain"), even pondering the myriad of choices in the sexual arena ("Curious, Yet Ashamed"). There's little explicit content here – even the nudes adoring the graphics would fit better in an art gallery than a girlie magazine. Rosenthal is clearly more interested in motivation and feel than detail.
It's not all pleasure, after all – Rosenthal also takes hard looks at anorexia ("Inch Worm"), abuse ("Love of the Father," "I Strike You Down") and self-esteem issues ("Love Song"). An intelligent guy and astute observer of human behavior, Rosenthal knows our romantic and sexual choices aren't made in a vacuum – while there's little of which to be ashamed, we should realize that our behavior has deeper meaning than superficial actions might indicate. Arguably that theme of prodding what lies beneath the surface is the engine driving Black Tape's entire career, and 10 Neurotics, erotic nature aside, continues the story in rich, compelling detail.
http://blacktapeforabluegirl.com
http://projekt.com
comments powered by