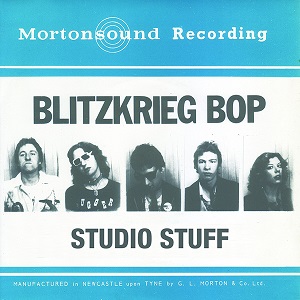 8 July 2015
Teesside, England's Blitzkrieg Bop may have only lasted from February 1977 to February 1979, but they perfectly captured the essence of late '70s UK punk during their brief existence. After over 35 years of obscurity, the Northern English group's entire studio discography is finally available to all who salivate over Killed By Death-style punk rock.
More than a mere assemblage of recordings, Studio Stuff shows a band growing between releases. Though the earliest sessions consisted of extremely rough covers of The Clash's "White Riot," The Stranglers' "London Lady" and guess which Ramones song (sung in a think Northern accent, no less), the debut self-released 7", "Let's Go" b/w "9 Till 5" and "Bugger Off" hit a milestone of originality with some fuzzy Nuggets-inflected garage punk, particularly in the title track, which owes much to Scott McKenzie's 1967 single. "San Francisco (Be Sure to Wear Flowers in Your Hair)." Lightning Records (The Mirrors, The Nerves) signed them for a tighter version of "Let's Go," now with ominous synths, b/w "Life Is Just a So-So" and "Mental Case," both exploding with early Damned rawness filtered through a Buzzcocks pop aesthetic. Two other tracks from these sessions, "Dole Walla" and "Get Out of My Way," further show the band's progression, despite their unfinished status. A BBC Radio Cleveland recording yielded the Stranglers-y "Images (Weekend Punks)," and the A-side of the second (and last) Lightning single, "(You're Like A) UFO" followed suit, while the B-side cover of The Equals' "Viva Bobby Joe," remained an unnecessary head scratcher. The final studio entry for the group produced "Radio" and "West Side Story," both of which sported a marked Ha!-Ha!-Ha!-era Ultravox! inflection, yet failed to attract any further label attention. Tired, disheartened and ready to move on, they disbanded, with members going on to join post-punk synth-poppers, Basczax.
Though not perfect, Blitzkrieg Bop delivered some incredibly memorable, poignant songs that deserve to be immortalized in the annals of great lost punk bands. Blast Studio Stuff with a steady stream of beer and return to an era before the mohawks and leather jackets.