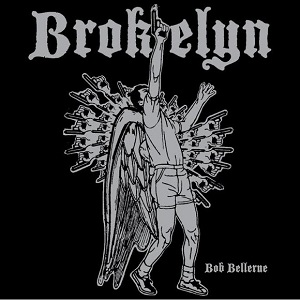 1 October 2014
After many years immersed in the underground noise scenes in Los Angeles and New York, sound artist and curator of Brooklyn's Ende Tymes Festival of Noise and Experimental Liberation, Bob Bellerue (Half Normal, Kilt), finally joins the LEM roster with a major slab of high fidelity vinyl comprised of two sides recorded live at Goodbye Blue Monday in Bushwick within the past five years.
"091809" opens with birds and traffic, a typical morning for any Brooklyn resident. As the sounds warp and collide, they become the noise of the day buried in textured static and effects laden frequencies. This isn't sonic free-for-all, it's carefully executed aural art rooted in the low and mid-range spectrum. Rumbling electronics morph into cyber screams and back as the performance progresses, eventually building to a mind-bending finish of electrical flutter.
"111810," on the other hand, takes things even further, beginning with what sounds like a short-wave radio tuned to an empty channel, building into dark, ominous territory. Deep within the subdued static and quietly churning effects lies the sound of nightmares long forgotten, where the only memory is that uneasy feeling that can never be fully placed. A faint voice creeps out of the snow, only to fade away as the wall-of-noise builds energy, recedes and rises again, an electric wave that ends in mid-thought.
In the realm of noise and experimental music, Bob Bellerue elevates his recordings beyond the mere level of harshness into three-dimensional soundscapes that can be felt as well as heard. In this, he is a true artist, fully deserving of the title.