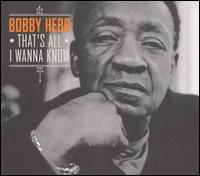 9 March 2008
Apparently released in Germany in 2005, this took two years to make its way across the ocean, and I should've reviewed it last year. Grab it while you can, for it's a little gem by an underrated veteran. BOBBY HEBB is best remembered for his 1966 self-penned hit "Sunny," and for co-authoring the LOU RAWLS hit "A Natural Man.
This is, stunningly and unjustly, only Hebb's third released album in a performing career that started in 1941 (when he was three years old; at 12, the Nashville native was backing ROY ACUFF at the Grand Ole Opry). Recorded in 2003, it reprises some of his recording career's high points: "Sunny," in a duet with ASTRID NORTH; his wonderful cover of the country standard "A Satisfied Mind," also a '66 hit; "Bound by Love," a '67 single; and "Love Love Love," a hit in England in 1972 and now considered a Northern Soul classic. There is also the first released recording of Hebb's 1967 songwriting collaboration with PHIL MEDLEY, "Cold Cold Night."
Filling out the disc are some well-chosen covers: "Different Strokes" (a SYL JOHNSON hit), "Proud Woman" (a JOHNNY ADAMS favorite), "When Love Goes Wrong" (made famous by Rawls), "We're Gonna Make It" (a LITTLE MILTON single), HANK WILLIAMS's "Cold Cold Heart," "Don't Tear Me Down" (recorded by CHARLIE RICH), JAMES CARR's "That's All I Wanna Know," and even G. LOVE's "Willow Tree."
Just look at the variety of sources there – but Hebb's soft voice, as warm and charming as it was back in '66, puts across every song as if he'd written it himself, and the tasteful arrangements are smoothly authentic. This is not gritty straight-Jack soul, it's mellow Bushmills-and-soda soul, sweet but with a gentle fire to it that's very attractive and endearing.