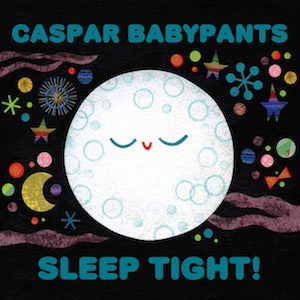 16 November 2017
Once and future Presidents of the United States of America frontman Chris Ballew has made a prolific and charming additional career in kids' music. Under the guise of Caspar Babypants, he has released more than a dozen albums with various themes geared toward children and the parents who love them.
New album Sleep Tight is the second collection of Caspar Babypants lullabies, following 2015's Night Night. Babypants promises deep and peaceful slumber, but listeners may not get to enjoy the project's full 52 minutes. "You may never even hear the last part of the record because you will be asleep before you get there," Ballew says.
"First Star" begins the collection with a tumbling acoustic guitar and an ode to waning twilight and the shimmering night sky. "Go Slow Sluggy" describes a patient and unhurried bug (or perhaps fading kid) willing to make a "moment last and last and last." Other songs feature a sandman who needs a bit of rest himself (dedicated to late Morphine bassist Mark Sandman, a reference for the grown-ups), and an entangled kite (remember Charlie Brown's kite-eating tree?) that longs to drift into an endless sky.
"Rain and Thunder" is colored with gentle piano, loping bass, swirling synthesizer and a distantly echoing drum machine. Other songs feature twinkling marimba. "Pale Moon" hangs in the sleepy sky, reflected in Kate Endle's delightful and cosmic cover artwork.
Ballew's whimsical wordplay is evident as ever, describing warm and fuzzy creatures heading to sleep in "Another Head Hits the Pillow." Even spiders with fuzzy little toes need a good night's rest after riding pell-mell in their dune buggies with the accelerator to the floor all day long.
Sleep Tight arrives January 19, 2018.
babypantsmusic.com