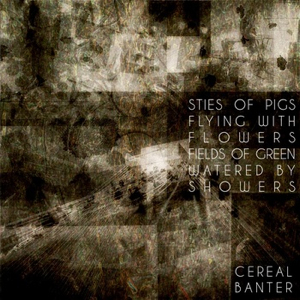 11 December 2013
This unconventional, left-of-center Cleveland duo, drummer Joseph Joseph and keyboardist Molly Pamela, follow up their 2012 second album Sunblur with this elaborate, freeform 22-minute single. While Sunblur was made over a two year period, "Sties" reverts back to the spontaneous, no overdubs recording approach of their 2011 debut Lights Lights Lights (the last few minutes of "Sties" even repeats the melody from Lights's "Portlander"). Yet there's also a noticeable upgrade in the breadth and depth of their sound, thanks to the engineering/mastering job of Guardian Alien bassist Eli Winograd. He squeezes every ounce of detail from Pamela's chintzy-looking synthesizers and Joseph's rudimentary drum set.
Pamela's previously fuzzy, minimalist drone now boasts more fullness and clarity. Her beeping, wheezing, and howling sci-fi sounds dart in from everywhere, like the Star Trek Enterprise's bridge panel equipment simultaneously malfunctioning. And Joseph's stickwork has a harder and beefier bite, while still retaining its off-kilter, disjointed, and clipped avant-jazz mannerisms. Each plays off the other like they're reading minds, skirting the boundaries between a structured and improvisational style.
But what sets "Sties" off into newfangled spheres of Banter bizarreness are the terrifying, demented "vocals" of Pamela. She blurts out each repetitive, looped line with a childlike naïveté, as if taking part in an electroshock therapy experiment gone haywire, or attempting to escape from a hallucinogenic, Blair Witch Project meets Carrie nightmare (oddly, she never actually quotes the single's long title, only variations on its phrasing, while mentioning birds, cows, elephants, cockroaches, and owls – oh my!). "Sties" is just as disconcerting and harried as the LPs, but with a bolder, revitalized sense of purpose.
(NOTE: Vinyl will be available in early 2014, but you can stream "Sties" on their Bandcamp page.)
comments powered by