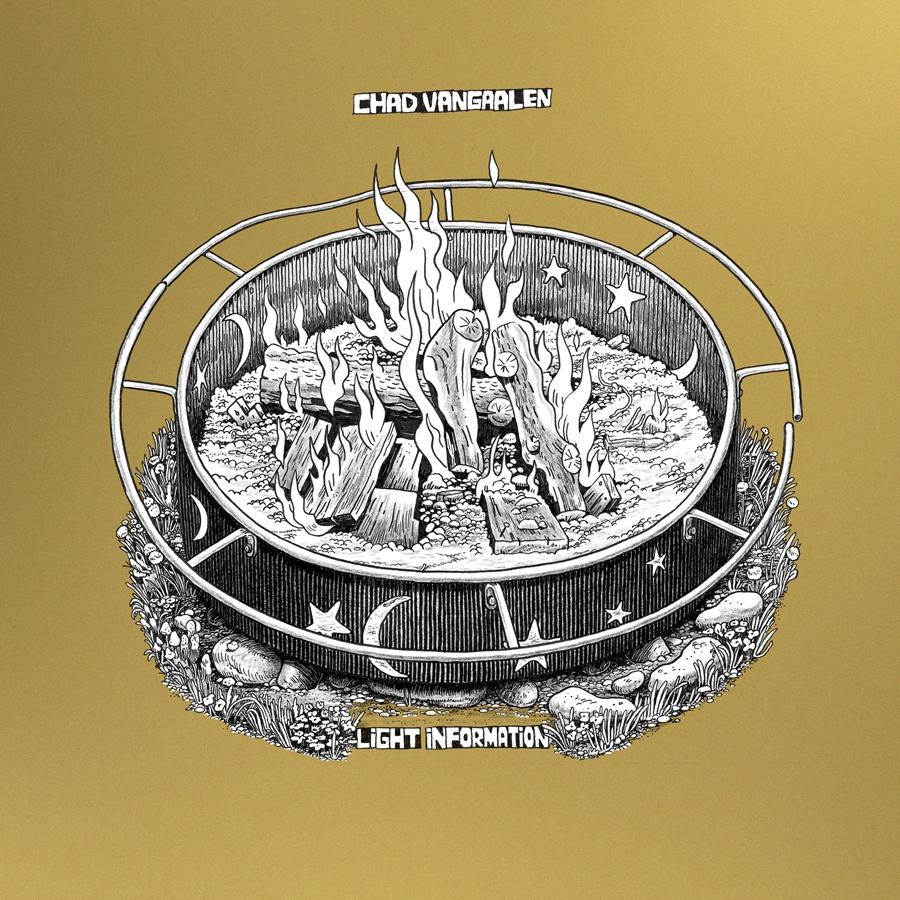 21 September 2017
Chad VanGaalen is an effusive creator, either preoccupied with his equally distinct brands of music or cartooning, and given those foci, they lend each other assistance. For instance, his animations have often been specifically purposed for music videos – both for mostly himself, as well as labelmates like Shabazz Palaces and METZ – and vice-versa, as it's fair to say that his phantasmagorical illustrative storytelling has blended into his songwriting in droves. We're regularly granted a sturdy batch of introspections like "Weighed Sin" and the thinly-veiled, yet veiled nonetheless "Monster" from previous album Shrink Dust. VanGaalen is then just as prone to weave tales, like he does on album opener "Mind Hijacker's Curse." Light Information, his sixth album, hits the ground running with this wildly veering midnight highway hot pursuit via poised meditation on fatality, and the trend continues from there, as it is on the whole a storytelling record.
"Host Body" dutifully follows VanGaalen's penchant for icky nightmarish tales, depicting a prisoner of war's reinterpretation of Invasion of the Body Snatchers' plot synopsis. "I'll be the host body, yes/For these parasitic demons/They can lay their eggs inside my chest/I can already hear them hatching," he delights sickeningly, later bridged to a staccato refrain of oohs that oscillate as if projected through a tin-plated miniature farm silo. That murky bottom-of-the-well production that he's bestowed upon bands like Alvvays and Women is, of course, an extension of himself, and works best when applied to his own oeuvre. Reverb normally is received one of two ways: blissful and dreamy or unsettling and haunting. VanGaalen will frequently rely on the latter, and the choice may be entirely out of his choosing and more a product of his inherent style. That being said, it's stunning that under those consistent circumstances, he's able to shift mood mid-album and dole out pop gems like "Old Heads" and "Static Shape."
On the latter, those familiar chilling vocals from the afterlife rear their heads again to chime along to the bouncy two-chord progression. Worry not of the specters whose unfinished business appears to align with his work. Just imagine that the gored twins from the Overlook Hotel woke up on the right side of the bed today, and the invitation for playtime is sincere. On the former, we hear one of several instances throughout the LP where VanGaalen demonstrates his obvious bounty of oddball synthesizers. There's really no shortage here, and if one were to harbor doubt, it's easy to imagine that some of the melodies intoned by these machines were a result of the most foolproof method to filling a gap in a song; whether it be a bridge to the post-refrain or otherwise, a lot of those sections may have been culled from a sheet of instructions he leaves himself by the work desk that reads, "1) Select unused, enticing preset on Korg. 2) Play recurring melody or variation on that melody when leading up to the next verse." Sometimes in the end, peak performance arises out of simplicity like this.
"You Fool" may be the sweetest song to ever begin with the word "semen." It laments a portrait of a man who's hit bottom, laying bare his most pathetic state to his loved one's utmost chagrin. The character in question doesn't care that she sees him this way, and no matter how dour the situation is, VanGaalen still surrounds its finger-pointing titular phrase with a beauteous, sweeping chorus; a bevy of Chads, all wraith-like and withering in pretty remorse for the character in question. Moments like these give pause, as we consider… if VanGaalen weren't so funny and laid back in person, would he come off as a tortured artist? It's hard to say with assurance if that persona exists within him, underneath the casual exterior; if his R. Crumb-esque attention to sublimely grotesque detail directly correlates to inner demons. However, unlike Brendan Fraser in Monkeybone (to cop a forgotten reference), VanGaalen will surely yield the same goofy brand of surreal incantations regardless of which hand is leading the craft.
You may purchase the record here.