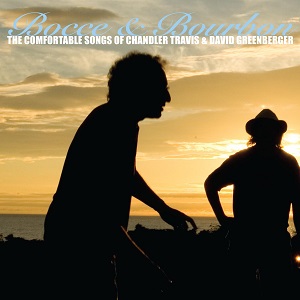 11 May 2015
Friends for thirty-five years, Massachusetts songwriters David Greenberger (Men & Volts, The Duplex Planet) and Chandler Travis (The Incredible Casuals, The Chandler Travis Philharmonic, The Catbirds) deliver a compilation that documents their multifaceted collaborations over the past two decades.
Bocce & Bourbon celebrates the love of songcraft shared by the pair. Using Travis' many musical projects as the vehicle for Greenberger's insightful lyrics, the songs span a wide range of styles. Where "I Bit the Hand that Fed Myself," recorded by Travis with Rabbit Rabbit, "She Laughed" and "The Crutch of Music" nod to New York art punk, "Graciously" exudes Dr. John cool and "By the Way" offers some XTC-style orc pop. "Calling Me Back Home" recalls Ray Davies in a ponderous mood, while "(You and Me) Pushin' Up Daisies" could the The Kinks circa Muswell Hillbillies and the gritty "Baby Come Get Your Cat" rests somewhere between The Rolling Stones and Tom Petty. Comprised of nineteen tracks, eight of which are previously unreleased, it's an excellent sampling of the many voices the duo have used over the years.
According to Chandler Travis, he and David Greenberger have "written some fifty songs" together. Hopefully, we'll see a volume two in the future.
comments powered by