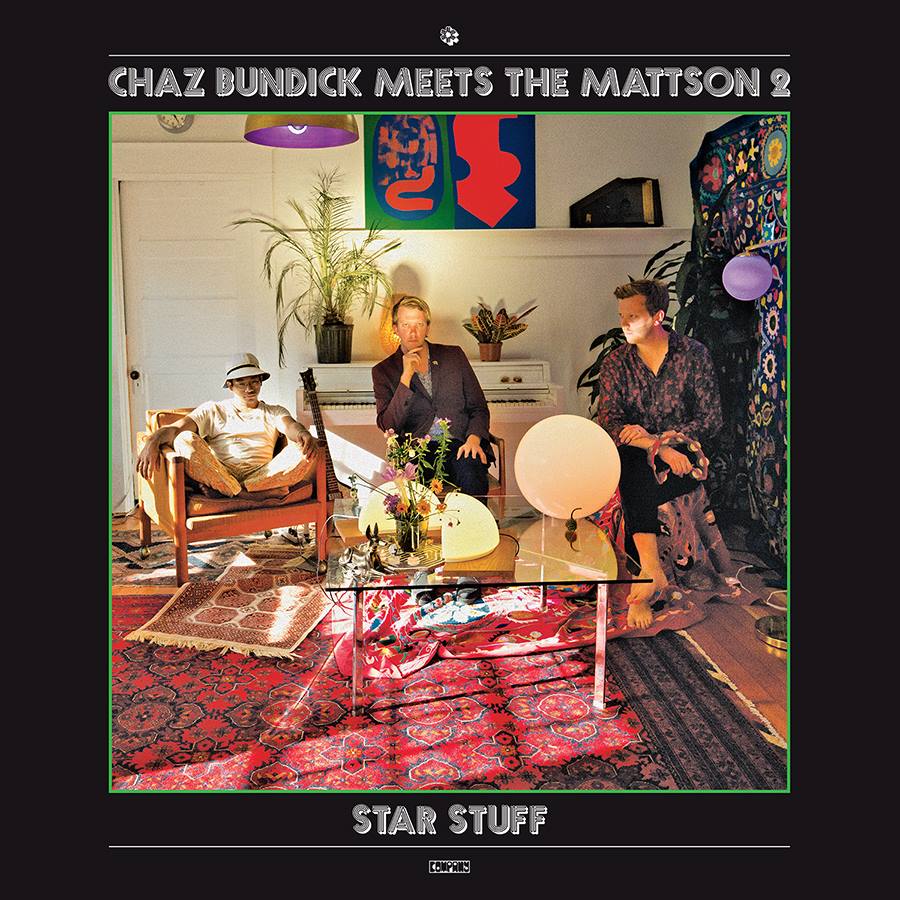 17 April 2017
Chaz Bundick's trademark soothing vocals don't even make a distinctly legible appearance until three tracks into this album. Star Stuff is a musical work whose sonic qualities are cemented at the forefront, similar to previous ventures such as the Les Sins album Michael and the Trance Zen Dental Spa collaboration with Vinyl Williams; the latter of those two projects sharing the closer resemblance in sound. Bundick, riding hot off the soulful garage funk of the latest Toro Y Moi album What For? has never been a stranger to psychedelia. Following "If I Was a Folkstar," his blissfully stoned poetic contribution to The Avalanches' album from last year, he may even be jokingly aware of his cosmic persona, as he states in the wonderfully trippy "JBS": "Eyes are crashing like a wave, feet are heavy/Now I am a walking cliché."
Relatively unknown when paired in an identity parade with Bundick, The Mattson 2 are unwaveringly powerful musicians and undoubtedly have earned any attention that hadn't been thrown in their direction prior to this engagement. Jonathan Mattson wears several hats at the drum kit as distant as the rollicking caravan stomp of the titular track to the spacey dub beat of "Steve Pink," holding down the loadbearing fort from brother Jared's guitar technicality, doubling as a magician's hat. His tone owes equally as much to his seemingly endless pedalboard as it does to his sheer prowess with the instrument in hand. Jared's mind is one of vigilance imparted by musical theory, and he employs his teachings to work miracles across the LP's varied compositions.
Reportedly summoned together through a mutual friend who knew Chaz would be more than happy to lend a drum throne to Jonathan while they were in town for a show, this formidable trio traverses several outfits in a light year across the galaxy, boasting flirtations with Syd Barrett-era Pink Floyd ("Sonmoi"), a rambling epic bearing likeness to Heart ("Star Stuff"), progressive jazz by way of Sun Ra and Jeff Parker ("Don't Blame Yourself"); and all the while, this trip down the interstellar highway plots its course with varying fidelities. There are moments where these songs mimic the production value on recordings dating back to as early as the June 2009 compilation, and given Bundick's involvement as producer for this record, it is easy to surmise that his inclination for sliding faders into dusty oblivion (outro to "A Search") or underwater catch-and-release (ever so briefly in minutes three and seven of "Don't Blame Yourself") has now become not just a function of habit, but a second natured example of expert decision making behind the soundboard.
Listeners that have followed Bundick's trajectory under the name Toro Y Moi know that he welcomes artistic change from album to album. While usually a common thread can always be traced through from the very beginning of his discography, Star Stuff is on another scale of execution, still within Bundick's wheelhouse but vastly beyond his typical thinking of an album. Combining forces with The Mattson 2 has granted him with his most accomplished product to date, and although Bundick prefers to explore new territory rather than retread old digs, we may hope that should he choose to break tradition someday off in the future, he sees fit to return to this psychedelic powerhouse.
You can purchase the record here.
comments powered by