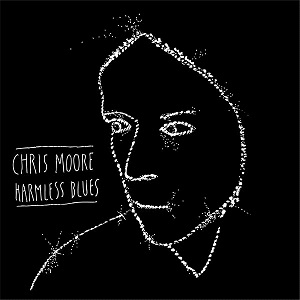 23 February 2015
Brooklyn-via-Detroit singer-songwriter, Chris Moore – perhaps better known as Negative Approach drummer, Opie Moore – continues his penchant for dark, edgy Americana with a strong full-length collection of songs.
Far from the unapologetic onslaught of his hardcore origins, Harmless Blues shows Moore's range as a songwriter as he seamlessly shifts from introspective blues-based rock, as in "Watch the Sky," to the Appalachian country folk of "The Mood Is On" without losing momentum. Where "Pockets" bares a sinister, snaky Thirteenth Floor Elevators vibe, "Holdouts" steps forward with a sneering, funky groove, though "Pushed out the Door" brings swampy mystery into the fold. Throughout, Moore's strong, smokey vocals exude embracing warmth or cool darkness, depending on the mood. It's a refreshing statement of confidence from one who places the music before the trend.
In a scene full of sycophants and poseurs, Chris Moore stands out as the rare genuine article. Sip your drink and soak in the captivating honesty of Harmless Blues.
comments powered by