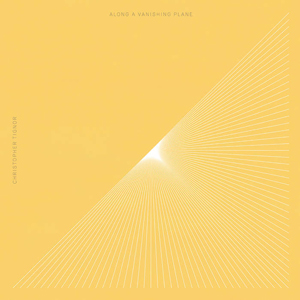 30 September 2016
Christopher Tignor is a NY based composer and software engineer. He's released music under his own name and also through various bands (Slow Six, Wires Under Tension). He has an extensive educational background in music and computer science. Tignor has also done live sound for years at NYC clubs, and as a string arranger, has worked with artists ranging from John Congleton to Meshell Ndegeocello. The sound here is crystalline, airy, and expansive, seeming to spread over a long distance as it weaves its musical web around you. The music is a combination of ambient, classical, and post rock, if you want to use labels. It combines all these elements seamlessly and is marvelous music for contemplation and even writing. Tignor explains: "All sounds originate from me kicking a drum, playing the violin, or various natural percussion sources. I built software that lets me do all this.There's so much space in this music, it's just essential – listening to a phrase decay in the room before proceeding. Likewise, there are no overdubs in these recordings; it's just me, 6 mics, and 3 video cameras."
The wonderful "We Keep This Flame" is the album opener, and it reminds me fleetingly of Slow Meadow and Stars of the Lid, mostly in the way that it is dialed back to a spare but perfectly contained song.
"One Eye Blue, One Eye Black (Blue)" uses triangles, simple percussion, and a beautiful sonic backdrop that suits this work. The song's companion piece is "03 One Eye Blue, One Eye Black (Black)" and continues the themes in the first tune. It adds more layers of complexity and has somber organ and what sounds like a xylophone or marimba. It is a bit more ominous in its presentation, which snares my interest all the more. "Arrow in the Dark" verges on sacred music with its gorgeous violin passages, and I imagine how fantastic this would sound in a great cathedral with soaring ceilings. "Shapeshifting" is a bit different, ushering in moody elements with faster beats. "Artifacts of Longing (parts 1-3)" are part of a suite, and all are slightly disturbing and darker than the preceding songs. The violin is just heart-rending in its tone on part 2, pushing the listener to an unsettled state. "Dead Letter Library" is the longest piece here, and small rays of light tumble through its cloudy elements. Rather like the rainy, September day that surrounds me as I listen to this release, offering up a tiny amount of hope to those in a downcast mood.
The album's final selection is the lengthy composition, "The Will and the Waiting".
It brings in all the textures explored in earlier songs, and adds almost trippy sections in spots. This expansive tune if a fine way to close out this release, one that will satisfy listeners who enjoy wonderfully played and composed music similar to the genres and artists mentioned here.
Catch up with Christoper over on Facebook and Bandcamp.
Pick up the album at the usual music outlets or courtesy of Western Vinyl.
comments powered by