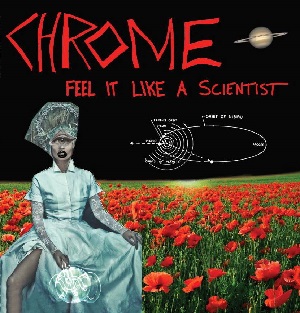 8 July 2014
At last, Helios Creed has delivered an album under the Chrome moniker that not only lives up to the name he established with founder Damon Edge (RIP), but also rises as a high point in his entire career as a solo artist.
Admittedly, Creed's resurrection of Chrome has been spotty, with earlier recordings taking on an industrial vibe with varying results, but Feel It Like A Scientist is born entirely from the original '80s sound. For the most part, songs tread between the classic 3rd from the Sun and vastly underrated Blood on the Moon, though "Lipstick" takes on a striking similarity to Half Machine Lip Moves and "Lady Feline" treads in solo Helios Creed territory circa Lactating Purple and Kiss from the Brain. Bassist Steve Fishman and drummer Aleph Omega perfectly capture the the tight rhythm section of John and Hillary Stench from Chrome's classic lineup, while Tommy Grenas adds Damon Edge-esque keyboard flavor and second guitarist Lou Minatti allows Creed to take things even further in his guitar blasts. It's the album Helios Creed has striven to make his entire career, so lovingly delivered to us puny humans for aural consumption.
Somewhere in the cosmos, Damon Edge is smiling, knowing that, finally, his thought transmissions have reached their destination inside Helios Creed's brain and Chrome are truly whole again. Welcome back to Earth, spacelings.