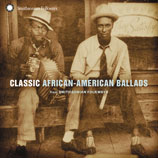 17 May 2006
This is a fascinating but frustrating collection. First things first: the definition. Mostly this sticks to the older, and musicologically primary, definition of a ballad: a narrative song. Not, in other words, the current common usage: a slow romantic song. In fact, it's about as far from that as you could get. In practical terms, that means verses telling a story (the non-ballads here are blues with ballad roots). These include some of the most famous American folk songs, and American characters: "Casey Jones," "John Henry," "Staggerlee," "Frankie and Johnny."
Racially, there are three ringers. WOODY GUTHRIE sings "Bad Lee Brown," and DAVE VON RONK sings "Duncan and Brady." It's the songs that are African-American, not necessarily the singers. (That's not to say that the origin of all the other songs is African-American. Some – most famously "St. James Infirmary" – are variants of English ballads. But they were Americanized by the early 20th century equivalent of troubadours, who made them their own.) But "White House Blues," a ballad about the 1901 assassination of President WILLIAM MCKINLEY, is done by a bluegrass group, EARL TAYLOR & THE STONY MOUNTAIN BOYS, although variations (as "Cannonball Blues") were recorded by black singers. It seems to be here to offer contrast with the other styles heard.
The frustration comes from the choices, but the color of the singers isn't the problem. Several of the tracks, however musically interesting they may be, just don't tell the song's story adequately, and oddly two of the most famous songs are thus afflicted. Nobody listening to SONNY TERRY and BROWNIE MCGHEE's "John Henry" would come away with any idea of what happened to John Henry (to find out, you could listen to JOHNNY CASH's estimable version). The music's great, but the narrative is lacking.
The single worst case is K.C. DOUGLAS's a capella "Casey Jones," which leaves out all of the story in favor of reactions to the train crash, emphasizing Jones's wife's promiscuity. In terms of folklore and how an oral tradition develops, this is interesting, but anybody looking for a definitive version of the song's story would be better off with just about any competing performance, especially since Douglas doesn't deliver a scintillating performance. I'm not fond of JOSH WHITE, JR's slick, hammy version of "Delia's Gone," either, but that's a matter of personal taste.
In a way, Folkways could have given us a more narratively satisfying collection by focusing on the label's many ballad recordings by LEADBELLY and BIG BILL BROONZY, but of course that would lack variety. Other performers who acquit themselves well here are MEMPHIS SLIM, JOHN JACKSON, SNOOKS EAGLIN, JOHN CEPHAS and PHIL WIGGINS, and Van Ronk.
The compiler – or compilers (I can't tell because the first and last pages of the booklet are omitted in my copy, with middle pages inadvertently repeated) – had to balance a number of goals, one of which apparently was to mix in some less obvious choices. Among these is HORACE SPROTT's "Luke and Mullen," an obscurity which might – in terms of date of origin – be the oldest completely American item here. Its historical value thus might be great enough to forgive the mumbled singing, muffled sound, and nearly inaudible accompaniment. The booklet notes are excellent, and despite my complaints, I recommend this disc to anyone interested in the roots of American music, because among the 22 tracks (67 minutes), there's more here that's good than flawed.
comments powered by