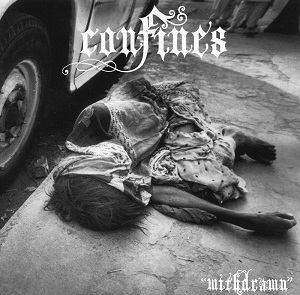 25 July 2011
In the tradition of massively intense Boston hardcore, Confines explode with a fury rarely heard anymore in this genre. Combining the blistering rage of classic bands like early F.U.'s, SS Decontrol and Negative FX with a leftist political slant may not be the most original cocktail in punk, but here it is executed with such brutal force that mere conveniences like "originality" become completely moot.
These four songs feature the relentless thundering rhythm section of drummer PJ Kuda and bassist Jamie Jones with the manic, screaming vocals of Andrew Jackmauh. It's really Ryan Abbott's guitar that stands out, though. Rather than adhering to the standard bar chording that comprises most hardcore, he throws in some impressive licks that keep the songs from drowning in predictability and cliché. This is powerful music that is as much Damaged-era Black Flag, early Doom and Gauze as it is Gang Green and Jerry's Kids.
Apparently, members of Confines were in Failures, Brain Killer, Social Circkle, Blank Stare and Cut the Shit, if any of those names ring a bell. If not, don't worry about it – this is one stellar release that surely outshines them all.
comments powered by