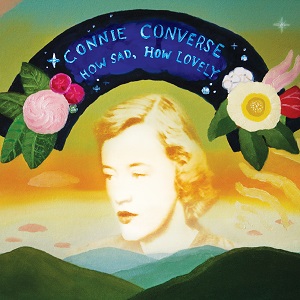 13 April 2015
Enigmatic songwriter, Connie Converse, composed a number of songs during the 1950s American folk revival in New York City that largely remained unheard before she became disenchanted and moved to Ann Arbor, MI in the early '60s, where, in 1974, she wrote goodbye letters to friends and completely disappeared, whereabouts still unknown. This reissue of the 2009 Lau derette CD of home recordings made between 1954 and 1956 by Converse and sound enthusiast Gene Deitch, later director of some incredibly psychedelic Tom and Jerry cartoons, features a bonus track and sees her songs available on vinyl for the first time.
How Sad, How Lovely embodies the intimate setting of an amazingly talented songwriter playing in your living room with absolutely no pretensions – just raw, stark honesty. Converse's powerfully gentle voice and organically exact guitar playing betray the darker nature of her lyrics, which brazenly defy the role of the female in 1950s America. Tales of bar fights, sexual freedom, hurtful lovers and joy in solitude pour forth through poetry and metaphors accompanied by her equally engaging acoustic guitar. Though crude, the lo-fi nature of the production adds to the performances, making them personal statements from one who just wants to play some songs for her friends. It's a fascinating collection of songs that only hint at the personality, humor and pain of one folk singer sixty years ago.
Where Connie Converse ended up in 1974 is anyone's guess. Hopefully, she found the solace in life she so desperately needed. Fortunately, her legend lives on in these recordings, and she can finally receive the recognition she so definitely deserves.
comments powered by