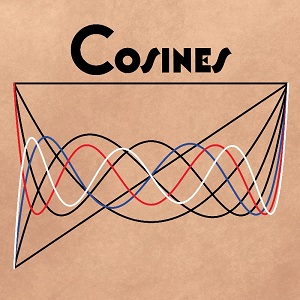 5 August 2014
After a pair of excellent 7"s, North London synth-pop quintet, Cosines, finally deliver their debut album and fulfill the promises made on those initial short bursts of vinyl.
For the most part, Oscillations propels at a steady, motorik-inspired pace, a dream for krautrock and Stereolab worshipers. Far from being mere imitators, however, Cosines eschew the esoteric nature of French socialism in favor of real events that happen to regular people, e.g., bad relationships, memories and math, told, primarily, through the strong, confident vocals of Alice Hubley. Guitarist Simon Nelson's offerings blend in perfectly, his voice an honest musing on finding home and failed relationships to a backdrop of fuzzy guitars, retro synths and insistent drums. That's not to say Cosines are only capable of motorik overdrive, rather, they expand their sound with the almost Doors-ish "Binary Primary", a Seeds-like insistence on "Runaway" and a dreamy Jesus and Mary Chain comedown in the closing "Our Ghosts." It's an entirely successful debut that perfectly encapsulates a band with a solid direction, strong songs and sound musicianship.
Where two many groups deliver stellar singles only to turn out disappointing albums, Cosines follow through with passion and sincerity. May Oscillations only be the first volume in the canon of a brilliant career.