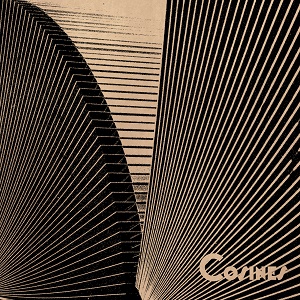 12 July 2016
London's Cosines return with four songs that show the group growing at an exponential rate.
"Let's Start It Over" kicks off Transitions on a deeply personal note. Vocalist Alice Hubley delivers a stream-of-consciousness musing on the changing city around her and the constant battle she faces every time she steps out the door. The pain strengthens her, however, like a futuristic Edith Piaf in a technocratic world. The following "Ra" steps away from from the bitterness for an astounding journey into the cosmos that blends spacerock with kosmische, proving the quintet has morphed beyond Earthly time and space. "Dunbar" angrily addresses the gentrification of London with a robotic sneer somewhere between New Order and Gary Numan, and "Chaos Theory" closes with a bit of Lou Reed/Bowie insight into one's stagnant nature, then builds to a saxophone driven fury akin to Hawkwind and mid-'70s Peter Hammill. It's an astonishing progression for a band that played their first show only four years ago.
Cosines are one of the few bands that actually matter. As their songwriting continually gets better, they brazenly explore new territories with an open-mindedness that is so rare these days. If this is any indication, the next album will surely break new ground.