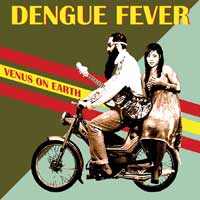 7 March 2008
Chhom Nimol is up to three English-language songs on this band's third album, but the musical flavors remain a freshly exotic hybrid.
The back story: Los Angeles band channels Cambodian psych-rock, lucks into genuine star Cambodian singer (Nimol), spices its sound with touches of Ethiopian music (horns, grooves) familiar from the great Ethiopiques reissue series, explodes from local favorites to national cult heroes following better distribution of a two-year-old album.
After listening to that CD, their great Escape from Dragon House, practically every day for most of last summer, I wasn't sure whether a new album could captivate as strongly, but after two plays it had its hooks in me. It's a more varied, sometimes more subdued (more romantic!) program, with even more musical influences felt at some points, but the swirling organ and throbbing rhythms still carry the listener along a trippy path.
comments powered by