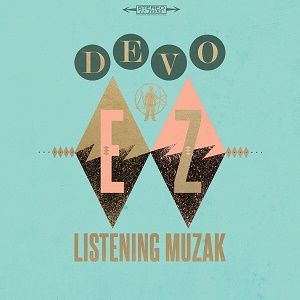 29 March 2016
Originally released as two cassette volumes during the first half of the '80s, Devo's off-kilter instrumental renditions of their songs have long been out-of-print, making them much sought-after collector's items. Over thirty years later, these magnificent alternate versions finally see their first official release on vinyl and CD to fill in that horrendous gap in your Devo discography.
EZ Listening Muzak perfectly documents the other side of cyberpunk reality. Far from the darkness of the street, it captures the essence of corporate life as the soundtrack to countless vertical miles of unidentifiable cubicles. This is the music of the employee lounge, not the velvet lounge, and, as such, the songs take on drastically different characters. "Gates of Steel" becomes robot chamber music, while "Girl U Want" could have been used in an old Sega video game. "Mongoloid" morphs into a sad, spacey ballad, "That's Good" incorporates dixieland jazz and "Satisfaction" further deconstructs into hypnotic italo disco. Sadly, "Gut Feeling" was not reworked, but an ethereal take on "Human Rocket" from their 2010 album, Something for Everybody, appears as a bonus track.
Devo are hailed as legends and rightfully so, but hearing the ingenuity behind these recordings further solidifies the imagination and creativity of the band. Think of what you'd hear while riding an elevator in Fritz Lang's 1927 silent classic, Metropolis, and know that this is it.
comments powered by