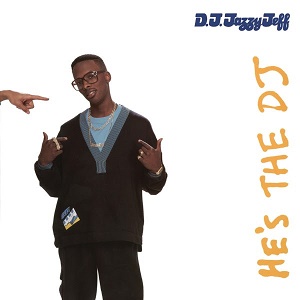 6 September 2017
Before becoming a revered Oscar-nominated A-list actor, Will Smith was one half of a hip-hop duo who not only placed Philadelphia on the map, but also achieved wide mainstream success with the genre's first double LP. That sophomore effort was also pressed to CD when released in 1988, but the extended running time meant it had to be edited to fit on a single disc. Now for the first time, that highly acclaimed album is finally available on CD in its original length as a deluxe two-disc reissue.
He's the DJ, I'm the Rapper hearkens back to a more innocent time in hip-hop before N.W.A.'s inner city anger became the gold standard of mainstream rap. As the Fresh Prince, Smith told insightful, yet extemely humorous, stories about youthful indiscretions. "Parents Just Don't Understand," the album's main single and one of the most memorable videos of the classic MTV era, for example, portrays a sympathetic character whose mother insists on buying him ridiculous, outdated outfits for school in the first verse before his admission of joyriding in his family's car and picking up a teenage runaway diminishes his credibility in the second. The opening "Nightmare on My Street" pays homage to the Freddy Krueger franchise, revealing an early interest in film. It's not all comedy, however, as Smith's raw talent for his craft fully shines in the title track where his rapid flow perfectly complements DJ Jazzy Jeff's frenetic backdrop. Jazzy Jeff, aka Jeff Townes, fulfills his role as a one man band, providing Eric B.-inspired sound collages to guide Smith's rhymes. It's irreverent, but intelligent and thoroughly entertaining, a PG-13 John Hughes vision of rap.
Eventually the Fresh Prince became a TV icon and acting became a stronger love for Smith than rapping. Townes also got into acting to a lesser extent, but pursued his love of music through production. This was the portal that opened the path to their futures.
comments powered by