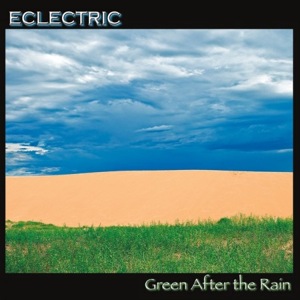 14 April 2013
Eclectric creates an appealing blend of classic and alternative pop styles. The sound is led by David Hilal's emotive, full-bodied baritone and his chiming acoustic guitar, spiked by Chad Kulengosky's formidable lead guitar chops, and rooted in Miro Svetinsky's crafty synthesizer arrangements.
The title track "Green After the Rain" borrows ambitious production flourishes from no less than Pink Floyd's "Welcome to the Machine" and fittingly, Eurythmics' "Here Comes the Rain Again." Similar influences combine with New Wave-era sounds created by groups like Tears for Fears or the smooth pop-fusion of Level 42 during "Through Your Eyes." Kulengosky tears through stratospheric but tuneful guitar heroics during the restless and desperate "Run." "Every Other Day" is reminiscent of the more lovelorn flights taken by Thomas Dolby or The Fixx, with shades of Rush classic "The Spirit of Radio" in the fretwork. "The Endless Sea" recalls the summery acoustic jangle of Supertramp's "Give a Little Bit."
During "Was it Your Body," Hilal sings about steeling oneself to make the hard decision to move on from an unhealthy relationship. "Road to Acceptance" offers brotherly advice on the nature and value of true friends. "December Felt Like Home" celebrates the comfort of finding yourself where you belong, regardless of the time or missteps taken while getting there.
comments powered by