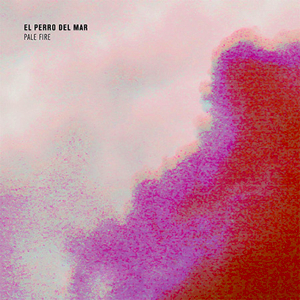 5 November 2012
Here, finally, is Pale Fire, the album Sarah Assbring, as El Perro Del Mar, has been alluding to for more than a year. Last September, she first mentioned the album as her response to the riots in England, during which she was "wrapped up in work on an album which in many ways is about living in a time where there's little hope, little future and what times like these do to people." She offered a couple preview tracks, "What Do You Expect" and "Innocence Is Sense," sample-based urban symphonies whose words spring more from the atmosphere of her world than from Assbring herself. (Neither track has ended up on the final album.) Then, earlier this year, another statement presented Pale Fire as something more personal: "In this world, you think you have no reason to believe in love or in anything much. Then one day, when you least expect it, a light appears on the far horizon. […] for a moment, it brings clarity in the darkness, future to the ruins and power to the fight." Along with these words came another advance track, "Walk On By," the kind of "say no to love" song she does so well, but like those earlier songs, demonstrating a strong rhythmic emphasis to bolster the melancholy, borderline-spooky tone.
So, Pale Fire has evolved significantly since its germination, as have the expectations of anyone who's followed its progress, but the title has never changed. Assbring fell in love, or out of love, one might assume, but rather than recasting the whole project, it's as if she decided the best way to complete the political record she first set out to make was to turn it as personal, intimate, apolitical as possible. Retreat, however ineffective a solution, is one strategy for hopeless times. Assbring gives herself to love, as tentative as it is powerful, on some of these songs, but seems wary to ever place her trust in more than one person. She recently likened the album's most commanding song, "Hold Off The Dawn," to the feeling of being in the arms of a lover, "safe from the bleakness of the [present] and the uncertainty of the future." She achieves this via song as mantra (her signature: see sparsely-worded early masterpieces like "Dog" and "Coming Down the Hill"), set here to a stronger beat, and presented more as a swirl of voice, less as linear melody. So, the title stays, and only the mantra has changed, the pale fire internalized. Here's the album foretold by 2008's "Someday I'll Understand (Love Will Be My Mirror)."
It probably sounds like I've made up my mind about Pale Fire, discovered something about it, but not really. Assbring's notes leading up to the album's release have been helpful, because musically she shows less of her hand than ever. Somehow, I'm always tempted to search for the meaning in her music by looking at the minor details of its assemblage as artifact (for a study of this process, see the amazing new documentary about Rodriguez, Searching for Sugar Man). For me, a proper review of Pale Fire, one that systematically tried to work toward its core, would be a series of statistics, facts, and diagrams. First, I'd maybe look at the ratio of its number of tracks to its total length, as previous El Perro Del Mar albums have exploited this ratio for a good deal of their power. Her self-titled debut gave us a modest 10 tracks in 33 minutes, but then her subsequent two albums expanded its ambitions in opposite ways: From the Valley to the Stars was a beautiful succession of devout miniatures, 16 songs in 43 minutes, and Love is Not Pop offered explosions of orchestrated thought, 7 songs in 33 minutes. With Pale Fire, there's no significant drama in its 10 tracks in 42 minutes, so we must look elsewhere for it.
Next, I'd consider the new album's title, its cover art, its sounds. The title references Vladimir Nabokov's great 1962 novel about the outlandish textual analysis of an inscrutable poem (there's an idea). The album artwork might have been used by The Cure in the early 80s. And the sounds sometimes recall the playful pop mixtures of her countrymen (jj, Air France, The Radio Dept, The Tough Alliance), but Pale Fire's significance is far from borrowed. Many of its elements seem referential, but by also referring to each other, they create a closed loop and make their own meaning. However tight that loop may be, no matter: I'm as taken with standoffish albums as I am with generous ones.
Pale Fire's quickening to the pace of modern Swedish pop music is a pretty significant development in Assbring's captivating, outlying career. The beats here aim to recapture the vibe of dance records of the early 90s, but remain perfectly insular and inappropriate to dancing. If Assbring had any inclination to hedonism, her album might sound like Primal Scream's Screamadelica. If she was more of a genre gatherer, it might sound like Saint Etienne's Foxbase Alpha. Instead, we have something as self-contained as B12's Electro-Soma. There's an aura of faint luxury to the arrangements, throughout, and plenty of audacious moments (the album opens with enveloping brass; "Love in Vain" skates along on a light reggae beat), but the album never traffics in cheap triumph or tries to impress with the idea that its textures were hard (expensively) won. Assbring could have gone bigger, bolder, in the spirit of the times, but as ever she scales her music to the modest imperatives of individual expression. In this overpopulated world, a lot of people try to shout louder, but Assbring believes she'll be heard under the false, or sometimes real, euphoria, or is wise enough to not care.
comments powered by