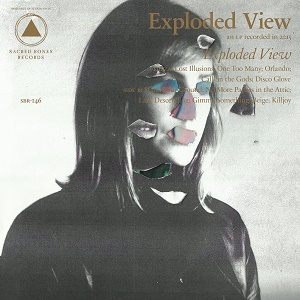 9 August 2016
As the unexpected collaboration between political journalist-turned-musician Anika (BEAK>, Michael Rother, Jandek) and her backing band – Martin Thulin (Crocodiles), Hugo Quezada (Robota) and Hector Melgarejo (Jessy Bulbo, Nos Llamamos) – while on tour in Mexico, Exploded View fully live up to their name with an absolutely stellar debut full-length.
Exploded View successfully blends krautrock with post-punk and no wave, effectively bringing them from the pages of rock crit tomes into a future of anxiety, paranoia and fear. The opening "Lost Illusions," as well as later tracks like "Call on the Gods," "Stand Your Ground" and "Gimme Something" lumber forth with a sinister gait recalling Can and Alain Goraguer as Anika's tormented, dispassionate vocals evoke a blend of the former's Damo Suzuki and Nico. Other songs, like "One Too Many," "Disco Glove" and "Beige" sound like Second Edition-era Public Image Limited with The Birthday Party's Rowland S. Howard playing guitar, while elsewhere, "Orlando" molds italo disco and dub, landing somewhere between Joy Division and This Heat, though "No More Parties in the Attic" nods to the early industrial explorations of Throbbing Gristle and Cabaret Voltaire. It's perfection on two sides of vinyl – so dark, yet so beautiful.
To think that Exploded View delivered such a monumental work their first time around only points to the unbridled talent lurking the shadows of their music. Turn off the lights, turn up the volume and hope that more comes soon.
comments powered by