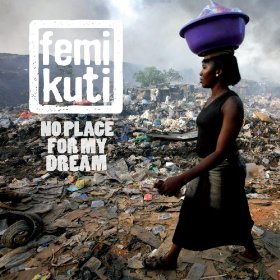 25 June 2013
The sixth studio LP from Femi Kuti, No Place For My Dream shows that not a lot has changed in the world of the most famous son of Fela Kuti – and that's both good and bad. Good, in that Femi continues to keep his father's Afrobeat flame burning brightly. Though not as traditionalist as his brother Seun, Femi still hews closely to the party line – Yoruba and highlife melodies married to funk grooves, with jazzy horn charts and improvisations mixed in. The only real difference between Femi and his dad is that the former likes to keep the songs at manageable lengths – though he and his band Positive Force don't indulge in the mesmerizing mantras of Fela, they do keep the tunes more easily accessible.
The other staple of the style is, of course, sociopolitical lyrics, and herein lies the mixed blessing. Femi sounds like he's struggling to live up to the ideals of his band's name. As the world's problems increase, his outlook and lyrics become ever more grim. "The world is changing/Everyone dey feel the pain/The world is changing/Poverty dey win the game," he sings matter-of-factly in "The World is Changing." He picks at more Africa-focused, globally-relevant scabs with "Politics Na Big Business" and "No Work No Job No Money," seemingly giving up on hope altogether in "Nothing to Show For It." The title track battles disillusionment, as Femi struggles to keep the faith in the face of cynicism, unwilling to become "a dead hero."
But Femi doesn't give in completely to despair – "Carry On Pushing On" and "One Man Show" keep defiance alive, while "Action Time" broadcasts a call to arms. This, as well as the relentless Afrobeat groove, keeps No Place For My Dream from being a litany of misery and tribulation. No matter how long until the dawn, Femi Kuti remains convinced it will come, and his music will keep the world dancing until that sun rises.
http://www.femikuti.tv
http://www.knittingfactoryrecords.com
comments powered by