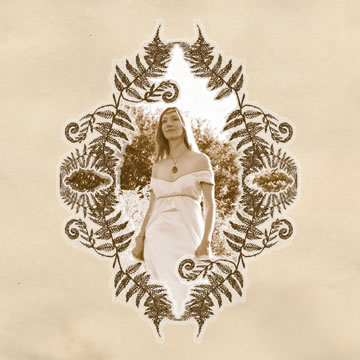 29 April 2008
A bewitching mix of madrigal and folk, FERN KNIGHT's eponymous album is both earthly and ethereal, balancing the lightness of harp strings with the weight of '70s psychedelic guitar lines that slice scythe-like into soundscapes both foreboding and sweet. This is magic with a 'ck', a woodland mysticism conjured through ESPERS frontman GREG WEEKS's understated production and MARGARET WIENK's clean, unaffected vocals, minor melodies, and lyrics that delve into the natural and supernatural.
"Bemused" opens the album, a slow, searing Gothic fantasy fleshed out with bright harp arpeggios and the steady accompaniment of JIM AYRE's wah-inflected guitar. "Never sleeping never waking, the moon is pushing ever pulling me," Wienk sings. The song slowly builds in tension and intensity until her vocals are layered in a round, filling out the sonic space before disappearing into a haze of chimes and shimmering cymbals.
"Silver Fox" follows in a similar path with even more elusive lyrics, and "Sundew" and "Synge's Chair" have a different feel, with a focus on inventive chamber music instrumentation that brings to mind Colonial times.
While the cover art and the brief moments that move into hippie folk territory are not quite my cup of twee, on the whole Fern Knight is entrancing Renaissance fare with a psych-rock twist. The melancholic cloud that hangs heavy over the album surrounds the songs with a subtle darkness that's at once unsettling and warm, difficult to categorize and impossible to fully figure out. Fans of Led Zeppelin's folk excursions, Rasputina's historically inspired cello rock, and Spacemen 3's neo-psychedelic drone should all find elements to enjoy in this curiously enchanting release.
comments powered by