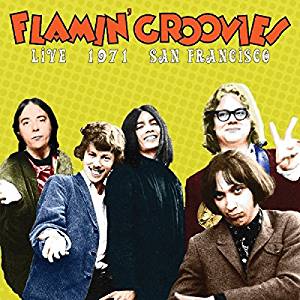 10 April 2017
If you're not hip to the Flamin' Groovies, this ain't the place to start (try Flamingo or Teenage Head), but for fans of the garage punkers, this is ten cuts of swamp boogie deluxe, and the last appearance by co-founder Roy Loney with the group until a later reunion in 2013.
The Groovies were more punk than hippie – think of a San Fran Stooges – and never seemed to be a good fit for the laid-back California scene, but that didn't slow them down. This show at the Fillmore is split between rock and roll chestnuts – "Sweet Little Rock 'N' Roller", The Who's "I Can't Explain" and the set closing mayhem of "Louie Louie" and "Walkin' The Dog" – and originals such as a brutal "Slow Death" and possibly their greatest moment, the primal "Teenage Head" – that the dodgy recording can't take away from. This is how live albums and bootlegs used to sound, kids – soundboard my butt.
When the band stomps their way thru the Pirates classic "Shakin' All Over" or the rampaging "Road House", this is flat-out, in your face punk that only a few artists could pull off, a lurch of drunken abandon captured in a bottle. The Groovies continued on for years, more in the power pop vein (their "Shake Some Action" is a classic of the genre), but it's these early days that made their legend, and proved to be so influential down the line – just ask The Cramps, The Fleshtones or The White Stripes where they copped their act from. Odds are, it's the Flamin' Groovies.
www.rockbeatrecords.com