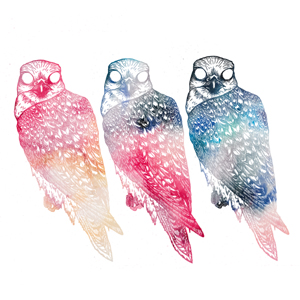 13 September 2016
Here we are finally with a full length record from Melbourne, Australia's brilliant Flyying Colours. Many psych and shoegaze fans recall their two recent EPs, 2015's ROYGBIV and 2014's Flyying Colours EP, also combined into one fantastic compilation last year called EPX2. So what can you expect here, more of the same shimmering, set on stun shoegaze? Well, yes and no. What you can expect is a band shifting gears, trying out new textures and styles. Opening track "It's Tomorrow Now" certainly hearkens back to earlier work with its massively fuzzed out wall of feedback and reverb, but it's merely a stepping stone to their other new songs. Take song number 2, the second single "Long Holiday", a quieter composition that veers on moody dream pop. At first I wasn't sure how I felt about it, but repeated listens made me a believer. This is a terrific tune with memorable hooks and lovely harmonies. Drums crash like surf on a rocky beach, and that evocative melody is haunting. Track 3 is "This Is What You Wanted", which resides in the DIIV school of psych inflected pop. Way under the main layers, I hear other things happening, which keeps me engaged. The noisier edges have been smoothed out slightly, but the energy is still hoppin'. And that cool guitar and bass interlude really is neat. "1987" (the year that singer/guitarist Brodie J Brümmer was born) has a fun, staccato bass line melded with a glorious pop tapestry. It underscores yet again what a melodic sensibility this group has, and it reminds me of vintage "Pains of Being Pure at Heart'.
"Morning Stoner" is uplifting and has deeply buried vocals. The lyrics are indecipherable, so you can make it up as you go. "Mellow" has a laid back groove, layers and layers of blissful shimmering gauze that floats around your ears. At the 3:15 minute mark, the band shifts tempo and ramps up the energy. I can only imagine this tune live; it almost falls into a jam, but manages not to overstep its bounds. Truly beautiful! "Roygbiv", the song that never appeared on the EP of the same name, is a spacey instrumental that builds slowly to a majestic summit. There is a voice way underneath the instrumental layers, and it all adds to the trippiness of this pretty composition. The droning waves remind me a bit of Flying Saucer Attack in their Further period. "Sun, Hail & Rain" is swooningly pretty with a slightly off kilter melody to keep it anchored to terra firma. Title track "Mindfullness" is full on shoegaze and sounds massive in a good set of headphones. One can imagine how loud this must be in a live setting! Great tune. Finally, "When" is the last tune in this set, and it is unabashedly poppy and has strings! Maybe they are programmed, but it doesn't matter. It is a song for savoring and swaying in place. I can find no real fault with anything on this fine debut album. It's the sound of a band in transition and one with a lot of creative energy. Highly recommended for fans of all things shoegaze, dream pop, and psychedelic tinged pop.
Check out the band over on Facebook and pick up the album direct from Club AC30 Records.
comments powered by