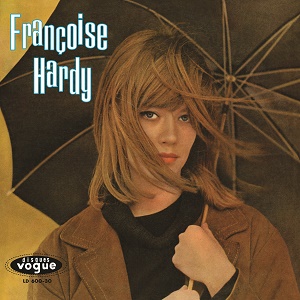 13 October 2015
In late 1962, French singer-songwriter Françoise Hardy collected her first three EPs for the Disques Vogue label into an eponymous full-length, which was retitled The"Yeh-Yeh" Girl From Paris! when finally released domestically in 1965 by 4 Corners Of The World/Kapp. As the first in a series of Hardy's earliest five French-language albums receiving a deluxe reissue, that first LP is now remastered and restored to the original French version.
Tous Les Garçons Et Les Filles is the sound of a shy, talented teenage songwriter trying to find her way between a music publisher looking to cash in, apathetic musicians and a conniving bandleader, who fraudulently added his name to her writing credits. Nevertheless, the songs retain a naïve charm and dreamy atmosphere punctuated by cloudy reverb, thumping bass, scratchy guitars and subtle percussion. As the French style of pop vocal known as "Chanson Française," French rock'n'roll and American ballads blend with a folk-ish emphasis on lyrical authenticity, Hardy's gentle style emerges, revealing more than a mere pop singer, but a rare sophistication. It's an absolutely irresistible compilation of lovely coolness that defies any language barrier.
Françoise Hardy would go on to become an icon, appearing in films by Jean-Luc Godard and John Frankenheimer, hanging out with The Rolling Stones, mentioned by Bob Dylan and wearing Yves Saint Laurent. She humbly began here, though, in a soft celebration of youthful innocence.