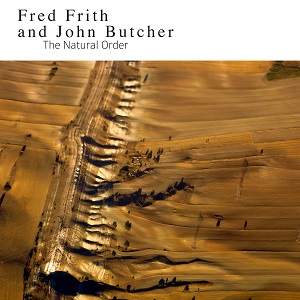 3 December 2014
Having performed together live a few times, guitarist Fred Frith (Henry Cow, Massacre, Naked City) and saxophonist John Butcher (Anemone, The Apophonics, Thermal) entered a studio in 2009 and recorded ten tracks with no overdubs. The results of that fascinating session are fully documented here, for the first time, in the order they were recorded.
The Natural Order is just that, i.e., the sum total of these two unique musicians listening to each other and communicating through their instruments. Frith's guitar ranges from Derek Bailey chicken-scratch skronk to shortwave radio static, responding to Butcher's alien animalistic lyricism. At times, neither instrument sounds like itself, instead creating an otherworldly soundscape, such as "The Welts, the Squeaks, the Belts, the Shrieks" and the monumental "Colour of an Eye Half Seen," while tracks like "Turning Away in Time" and "Butterfly of Vertigo" display the musicians' organic control of their vehicles. This is the definition of improvised music: observing while holding nothing back.
Having been mixed in 2012, it's astounding to think it took all this time to see these pieces released. Thankfully, they are now available to further project the legacies of Frith and Butcher.
comments powered by