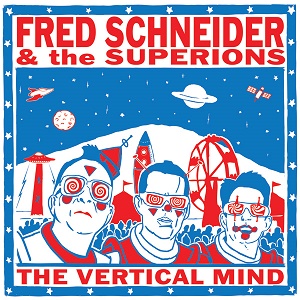 4 May 2017
In case you haven't heard, B-52s vocalist Fred Schneider has been active with his new band The Superions (Noah Brodie and Dan Marshall) for over a decade. Their 2010 debut Destination…Christmas! (Fanatic) remains the best Christmas album ever recorded, even better than Bob Dylan's horrendous Christmas in the Heart (Columbia, 2009) – because it's actually good. Finally, the trio delivers their second full-length, proving they're so much more than just a novelty act.
The Vertical Mind reveals what could have happened had Schneider collaborated with electronic pioneer Patrick Cowley. Thumping italo/hi-nrg beats and a Russ Meyer-esque female chorus drawn from My Life with the Thrill Kill Kult provide the perfect backdrop for Schneider's signature beat-punk bark, fully allowing his personality to shine. Lyrics celebrate international languages and cuisine, strippers, animals taking revenge and the airport experience, while he also flies his gay flag with some personal songs about kissing and rejection, though not necessarily together. Even "Sleeping Booty" comes across as a tribute to the late, great Blowfly, who passed last year.
The B-52s may define Fred Schneider's career forever, but he's still here doing his own thing. Tune in and turn on to The Superions for a 16-bit otherworldly experience.
comments powered by