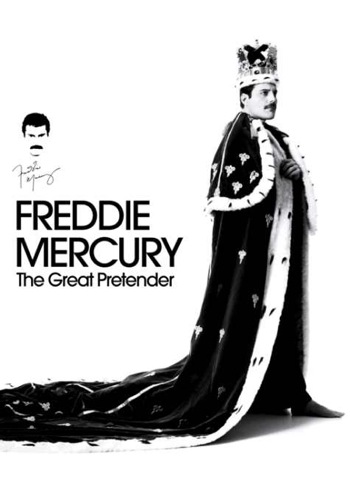 12 April 2013
"Do you miss the rest of the guys," asks an unseen interviewer. "No," answers Freddie Mercury bluntly. A moment later, he doubles over laughing, unable to keep a straight face. The Great Pretender is an ideal companion to early 2012's excellent Queen documentary Days of Our Lives. Although Queen are constantly on the periphery, this new film from director Rhys Thomas explores one-of-a-kind character Mercury individually. His musical excursions outside of the world's biggest rock band are explored. These include unflinching glimpses of perhaps self-destructive behavior during the mid-80s in New York City, alongside the everyday contradictions that prove the larger-than-life performer was every bit as human as the rest of us.
This documentary tells stories that weren't relevant within the Queen film, but rival them for level of intrigue. Learn how Freddie was nearly a part of Michael Jackson's Thriller album, the biggest-selling pop album ever, and hear an excerpt from the pair's demo for "There Must be More to Life Than This." The collaboration apparently unraveled because Mercury was unprepared to share studio space with twenty-five year old Jackson's pet llama. Unreleased material and footage with Rod Stewart reminds us that Stewart made his reputation as a rocker, and not as a standards crooner.
Mercury's interests and ambitions as a solo artist extended well beyond Mr. Bad Guy or even rock and roll. He relished in his opportunity to perform with The Royal Ballet. He put his soul into collaboration with operatic soprano Montserrat Caballé (whom Mercury unabashedly described as "the most beautiful voice in the world"). The result was the powerhouse Barcelona. It remains a stunning work for those who mistakenly think Mercury's ambition peaked with "Bohemian Rhapsody."
Mercury's solo flights did generate tension within Queen. "I haven't hit him yet," quips Mercury of guitarist Brian May, describing their tendency to squabble. "But there's still time," he concludes with a wicked grin. Nonetheless, new interview footage from bandmates May and Roger Taylor reveals nothing if not enduring affection for Mercury. Other new clips with close confidants do the same.
In an unguarded moment, Mercury reveals a strongly-rooted sense of insecurity. "Nobody wants to spend their life with me," he confesses. He goes a step further, presenting himself to the world as "The Great Pretender." The overarching sense of this film, however, is that no one close to Mercury can believe he is gone from their lives. Mercury is carried in the hearts of those who deeply loved him every single day – decades following his death. It's a fine tribute, and one that connects most deeply at a personal level, rather than relying solely upon the stadium-sized peaks of Mercury's fame.
comments powered by